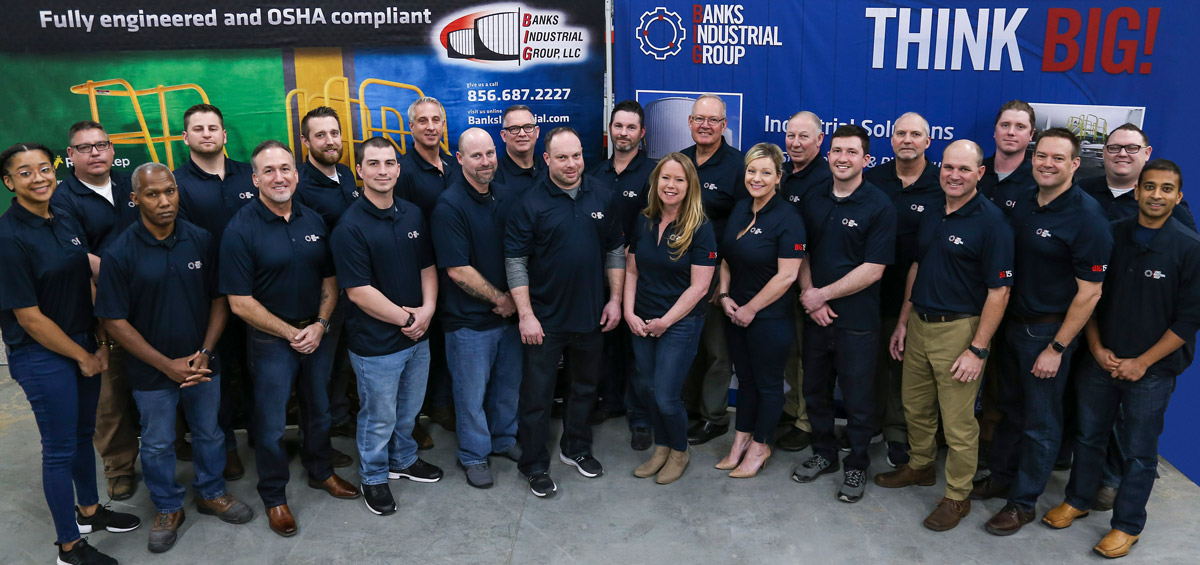 Customer Testimonials
We hope these kind words from our customers will give you a better idea of how BIG conducts business
Concrete Sump Vault Repair
---
"I cannot say enough good things about your crew! They accomplished what I thought was going to be impossible. An absolute pleasure to have on site. I am looking forward to working with them in the future!"
K.T.
Loading Ramp Repairs
---
"I wanted to reach out to you and Thank you and your team for a job well done! Your men were not only on time but they were early! In my book that's on time! They did a great job, they were very professional and the job is better than I expected!
Thank You again to you and your team!! I cant say enough about my experience with your company, workers and final product! I will recommend you to anyone I know!"
Calvin M.
Service Manager
FYI: A Great Crew
---
"Your company had a three (3) person crew on site this week installing ErectaSteps. It's been a long time since I worked with a crew, that not only worked extremely well together, but were on top of safety all three days on site, PPE in particular. I completed safety observations every time I spot checked them. I found no at-risk behavior or violations of our permits and safety policies. They listened, paid attention to all of my instructions. They made no assumptions and didn't hesitate to ask questions. Also, they were one of the most polite, helpful and respectful crews I have ever worked with on this site.
I've been here over 41 years, and these guys impressed me. That is not easy to do. If I had other work to be done by Banks Industrial, I would ask for the same crew every time.
Complaints are always brought to our attention, but when a pat on the back is warranted, you should also hear "Great Job!"
Warmest Regards,
Agnes
RE: Ductwork Repair
---
"Your technicians have just completed their work at our facility. We were very pleased with the work of the crew yesterday.
They clearly demonstrate a commitment to meet or exceed our expectations
. They are good representatives and worked well with our team. I reviewed all of the repair areas and the team completed all of the repair work as identified. I look forward to seeing the positive impact of the ductwork repair and longevity of ductwork life being realized. Very good first impression of Banks Industrial Group at our facility!"
Chris F.
Process Improvement Engineering Manager
Thank You - Great Job
---
"Just want to say thank you to you and your team for a great job yesterday. The stairs are perfect.
Everything went very smoothly and the crew was terrific
. They are welcome back anytime."
Jerry S.
Engineering Manager
RE: ErectaStep Stairs Thank You - Great Job
---
"In the industrial sector, there are usually a lot of proven companies with proven technologies, and costs differences that are fairly minor with regards to our large operating costs and down time costs. So the biggest thing for me is not price, but customer service! Banks knows what they are doing so I don't get a lot of questions, and they fix things when they say they are going to fix things. I like vendors that are "one call shops," where
I call with a problem and Banks, on their own, quickly looks at the problem and comes back with a solution, price, & schedule, so all I have to do is award the contract
."
Jamie M.
Tank & Pressure Vessel Engineer
RE: Pipe Coating & Insulation
---
"I would like to thank you and your team for the pipe coating and insulation work that was recently completed at our facility. Pipe deterioration at the soil line has become a real concern at our facility which could lead to catastrophic consequences if not addressed. Prior to this repair, bitumen wraps were used to prevent external corrosion of the pipe and did not provide adequate protection that would last over a long period of time. Banks Industrial Group supplied us with a long term solution utilizing Belzona material solutions and completed the job with insulation that was professionally installed. In regards to this potentially disastrous situation,
Our problem was solved with one call to Banks Industrial Group
."
Alan C.
Area Supervisor
RE: Vessel Repair
---
"
The communication, responsiveness, and service level Banks Industrial provided to our site on short notice for needed vessel repairs was outstanding
. The quality of both the service and the Belzona products used to implement the repairs was great. We felt confident about the integrity of our equipment and the permanency of the repair after the job was completed."
Brittany D.
Maintenance Leader
RE: Tank & Pipe Insulation Project
---
"With the completion of the recent tank and pipe insulation project, I would like to extend my appreciation for a job well done. As the terminal manager of this facility, it has been my pleasure to work with Banks Industrial Group, LLC. Not only was the quality of work outstanding, but the job was completed ahead of schedule and on budget.
The completion of this extensive project has improved the heat loss efficiency of the terminal, as well as provided an area that we are proud to display to our customers. In addition, with the scope of improvements your firm has provided, we now qualify for energy rebates through the State of New York.
Thank you again for your professionalism and expertise with this project."
Val S.
Terminal Manager
RE: Secondary Containment Area Coating
---
"Those guys were great.
They went above and beyond to do a great job
. Stay tuned for the approval on the next purchase order!"
David
Maintenance Manager
RE: ErectaStep Crossover Stairways
---
"Our diagrams, measurements, and your design worked perfectly.
The guys here truly enjoy using the stair system, rather than scaling up and down the wall
! Thx for all your help with these..."
Dave R.
Terminal Operator