Crossover Stairs, Ladders and Access Platforms
High quality, pre-engineered, OSHA compliant crossover platforms – fast quotes and installation!
Banks Industrial Group sells and installs OSHA compliant ErectaStep crossover stairs, ladders, catwalks and access platforms. These systems enable safe and easy passage over pipes, dike walls, conveyor belts and other obstructions as well as enable access to valves and control equipment. Benefits include:
Save Time, Money & Labor
ErectaStep is a modular, pre-engineered and OSHA compliant solution ready for immediate shipment. You can configure a system and have it installed in a fraction of the time required for custom engineering and fabrication.
Unlimited Configuration Possibilities, No Welding or Fabrication Required
Five modular pieces let you configure an infinite number of fall protection and worker access systems. Components share bolt hole patterns to reduce parts and assembly time. Create any configuration without drilling, cutting or welding. Use simple hand tools to attach the handrails, stairs or ladders to any side of the work platform. You can unbolt and re-purpose or expand an ErectaStep system at any time.
Create Any Length
Three platforms can be bolted together in a series without tower supports, providing up to 9′ of linear clearance. Need additional clearance? Simply bolt on extra platforms with tower supports to make the length and width you require. See example applications here.
Reach Variable Heights
Stack combinations of stairs, ladders and plaforms to access almost any height, depending on the confines of your space or your worker access needs. See example applications here.
Rapid Installation
Most configurations can be built on site in a few hours by two to three workers. Banks Industrial Group can install the system so your staff can focus on other tasks.
Fast Quotes With Drawings
To design, simply measure your height clearance and length clearance required, then contact us. Our experienced customer service representatives are ready to help you with sizes and specifications. We can provide quotes complete with engineering drawings in a matter of hours.
Precision Manufactured in the U.S.A.
All components are robot and laser cut and welded at the factory. Platforms and stairs are stamped for the highest strength and accuracy available. Check out the component specifications here.
Curious about prices? Find out about the cost of installing a crossover here. Interested in safety? Learn more about safety compliance here and OSHA 1910 codes here.
How Can We Help You?
We can provide onsite consultation with immediate, on-the-spot quotations for our standard crossover stair, ladder and access platform configurations. Please contact us today for more information or to schedule service.
---

Sample ErectaStep Configurations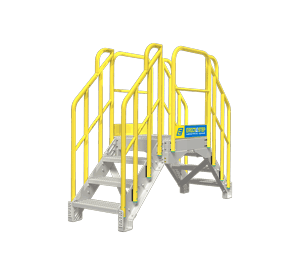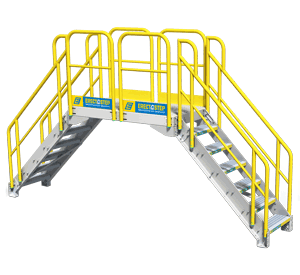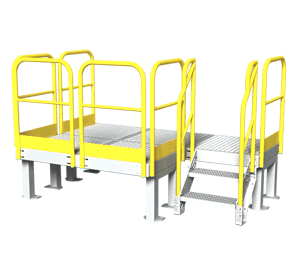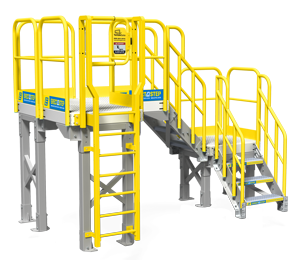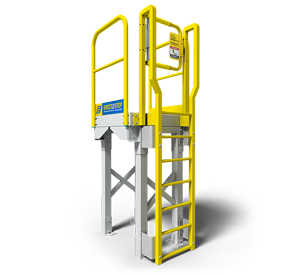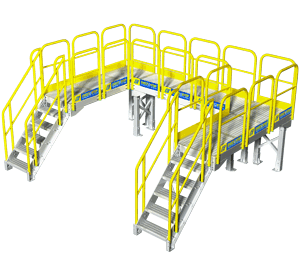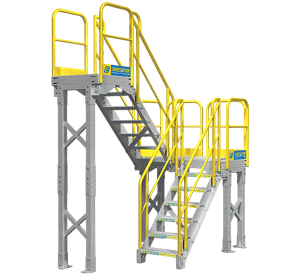 ---

Related Safe Access Equipment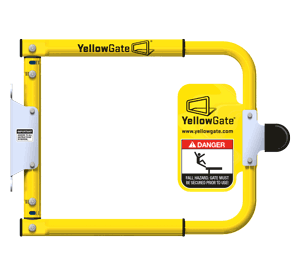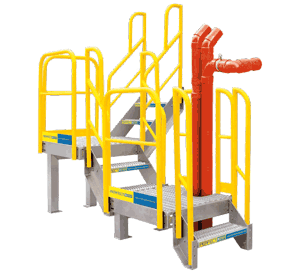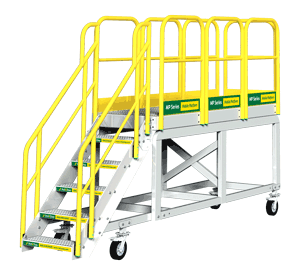 Frequently Asked Questions (FAQ)
Below you will find answers to the questions we get asked the most about ErectaStep Crossover Stairs and Ladders.
What is the cost of a crossover?
The cost of a crossover starts with a few questions. Does your crossover need stairs or ladders? What is the walking height or clearance required? How far does it need to span?
Erectastep varies in cost depending on the combinations of products used, but the stair components average about $503 per step while ladders average about $507 per ladder rung. Each stair or ladder rung has a rise of 9", so you can figure out the walking height required with some simple math. Finally, the span of the crossover matters too – each walking platform comes in 3-foot increments and typically is flanked by two handrails. The cost of each platform with handrails will average about $524 per linear foot.
For example, a four-step stair crossover with a single platform and handrails in the middle should cost:

Left stair = 4 * $503 = $2,012
Right stair = 4 * $503 = $2,012
3-foot platform plus handrails = 3 * $524 = $1,572
Total = $5,576 plus applicable shipping and/or sales tax
How long does it take to produce a quote?
Depending on the complexity of the requirement, a rep will typically have engineered drawings and a quote to you in less than a day, sometimes in less than an hour for simple platforms. "Standard" configurations can take as little as 30 minutes. More complicated ones a day or more.
What is the lead time for standard products?
We can usually ship standard products on the same or next day
Custom orders typically take 6-8 weeks after the completion and acceptance of drawings
What is the issue with having our workers fabricate a set of stairs?
Businesses with the resources can absolutely have their own people fabricate stairs. However, they should weigh the cost of compliance into that equation. Will a homemade solution be compliant with the numerous regulations set forth by OSHA or IBC-codes?
How do I know that the product is OSHA compliant?
Will this product meet our building code?
Depends, as all states have different codes. Ask us and we will help you determine the answer.
Can you provide an engineering stamp for ErectaStep?
Yes, ask us and we can arrange to have stamped drawings by a licensed engineer for your state.
Are ErectaStep products CA-65 compliant?
The yellow powder coating used by ErectaStep (manufactured by Sherwin Williams) for handrails and toe boards is non-compliant to CA-65.
Are these products ADA compliant?
How does ErectaStep arrive to my worksite? Do I need a crane to put them on a roof?
ErectaStep components will arrive flat-packed on pallets complete with a tool kit required for installation.
No need for a crane for rooftop applications. If one is available, it will be helpful, but each component can be broken down to be carried to a roof by one or two technicians on stairs.
Can my workers install and build ErectaStep? What tools are needed?
Yes. Most crossovers can be installed by two technicians, one socket wrench and two different length bolts. We supply the wrench and the bolts, you supply the people.
Do the platforms need to be anchored? How to anchor ErectaStep?
Yes. 2 bolts per footing is required for platforms under 6 steps and 4 bolts per footing is required for 6 or more steps.
The depth of the anchor, the size of bolts and the type of bolts should be determined by examining ambient conditions (indoor, outdoor, etc), the depth and area of the concrete base and the size of the platform. Generally, the larger/higher platforms will require longer or sturdier anchors. Anchors should be 5" or longer and should be absolutely no closer than 4" from the closest concrete edge to avoid cracking the concrete. For outdoor applications, you should choose a galvanized anchor. For indoor, you could choose galvanized, zinc plated or stainless anchors.
Are the handrails easily mounted?
Yes. Handrail mounting can be installed with only 4 bolts.
Can I modify my ErectaStep system after purchase?
Yes! That is the genius of using a modular system. You can also repurpose it later if your requirements change or if your floor layout changes.
If my factory floor changes, can I reuse this system?
What is the maximum height an ErectaStep platform can go to and what's the longest span without a support a platform can go?
ErectaStep can rise 15 steps before a landing is required to meet OSHA codes (every 12' of vertical rise).
Standard off the shelf product can go up to 20 steps, or a walking height of 15'. Custom supports can be designed for higher.
9' or 3' platforms is the longest span.
What clearance does each crossover provide?
To determine the clearance, multiply the number of steps times 9", then add 3" to that result.
6" tall gussets mounted on the underside of either end of the platform will reduce clearance available. The impact of that reduction depends on the size of the barrier requiring clearance.
We make available a clearance diagram to help size crossovers.You can request a PDF download here, and we will email it to you..
How high is the top of the walk surface?
To determine the height of the walking surface, multiply the number of steps times 9", then add 9" to that result.
What is the weight rating of each platform?
50 lbs per square foot or 450 lbs distributed load per platform; a custom order can provide up to 100 lbs per square foot.
What is the rise and run of the stair units?
9" rise, 9.5" run for all OSHA-compliant systems.
How wide are the stair treads?
Each stair tread is 26" wide and each stair measures 30" from the outside edges of each handrail.
Do you have removable handrails?
What finishes are available? Can it be made in steel?
Powder coated aluminum or mill-finished aluminum.
Mill-finished aluminum parts that are normally powder coated can be special ordered.
Yes, we can custom order the same product in steel.
Are diamond plated platforms available?
How heavy are these products?
Each component is so light that two adults can carry any single product from loading dock to the install site or upstairs to a roof. More information on weight can be found on our ErectaStep Components page.
Is ErectaStep made in the USA?
Yes, each part is manufactured in South Carolina.