Industrial Crossover Stairs
Banks Industrial Group (BIG) sells and installs OSHA-compliant ErectaStep crossover stairs, ladders, catwalks, and access platforms. Pre-engineered for streamlined installation, these systems provide easy access to control equipment and enable safe, easy passage over pipes, dike walls, conveyor belts, and other obstructions. From quote to installation, these high-quality platforms can be pulled off the shelves and, in many cases, shipped within a day.

With an ErectaStep system, you benefit from the following:
Unlimited configuration possibilities

Customizable walking surface length

Rapid installation and support

Fast, detailed quotes (drawings included)

Precision manufacturing in the USA
BIG prides itself on being able to ship and install the ErectaStep system faster than most companies can issue a purchase order.
Request Crossover Stairs Estimate
Pre-engineered industrial crossover stairs

Prevents slips, trips and falls before they happen

Improves productivity by facilitating better worker access

Five modular components allow endless configurations

Assemble in a few hours—no welding or cranes required
No need for custom fabrication

Easily unbolt, reconfigure, and relocate on site

Fast quotes, drawings, and rapid installation

In stock and ready to ship from our warehouse
Custom Stair, Ladder & Platform Configurations Available
ErectaStep crossover stairs are built from five modular parts. With these five pieces, you can configure an infinite number of fall protection and worker access systems without drilling, cutting, or welding. All of the components share bolt hole patterns, reducing overall part count, and streamlining the assembly process. Simple hand tools are all that's needed to attach the handrails, stairs, or ladders to a work platform side. You can unbolt and re-purpose or expand an ErectaStep system at any time. Some of these configurations include rooftop crossover stairs, conveyor crossover stairs, and crossover ladders and platforms.
Sample ErectaStep Configurations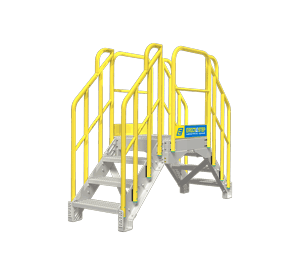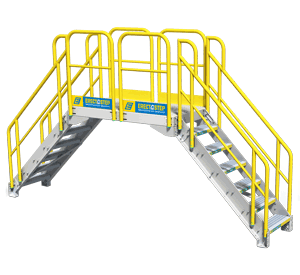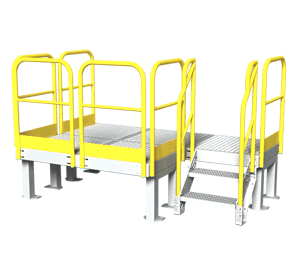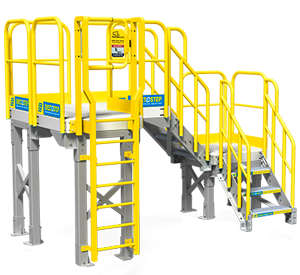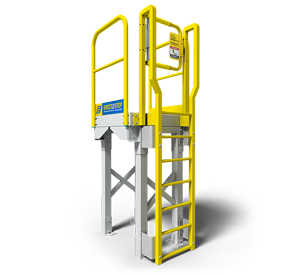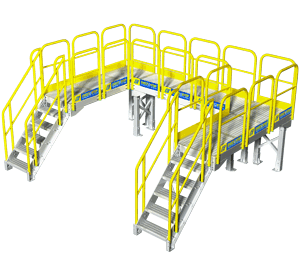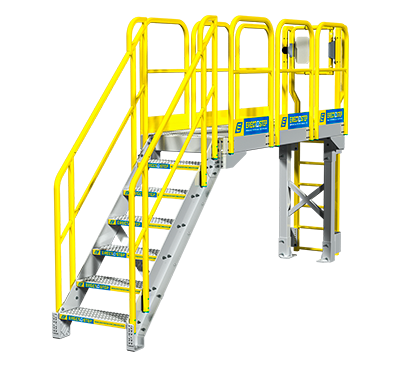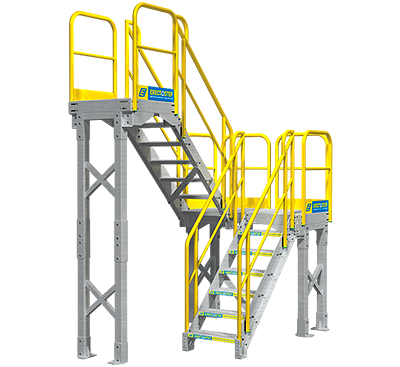 Modular Platforms and Stairs
With ErectaStep, three platforms can be bolted together in a series without tower supports, providing up to 9′ of walking surface. Need additional clearance? Simply add extra platforms with bolts and tower supports to reach the length and width you require.
ErectaStep's modular components enable users to combine stairs, ladders, and platforms at almost any height to accommodate unique space dimensions and satisfy worker access needs.
Fast, Detailed Quotes Available
ErectaStep is a modular, pre-engineered, OSHA-compliant solution that is ready for immediate shipment. ErectaStep design and configuration is done with an app and oftentimes takes only minutes. Assembly is fast (depending on size and configuration); some stairs are ready to go within four hours or less.
To design an ErectaStep industrial crossover stair solution, you simply measure your required height and length clearance and then contact us. Our experienced customer service representatives are ready to help you with sizes and other specifications. With this information, we can provide a detailed quote complete with engineering drawings in just a few hours.
Rapid Industrial Stairs and Platforms Installation Services
In a matter of hours, most ErectaStep configurations can be assembled on-site. Banks Industrial Group also offers installation services so that your staff can focus on other tasks.
Precision Manufacturing in the U.S.A.
All ErectaStep components are robotic laser-cut and welded at the factory. Platforms and stairs are stamped for the highest strength and accuracy available. Component specifications are available.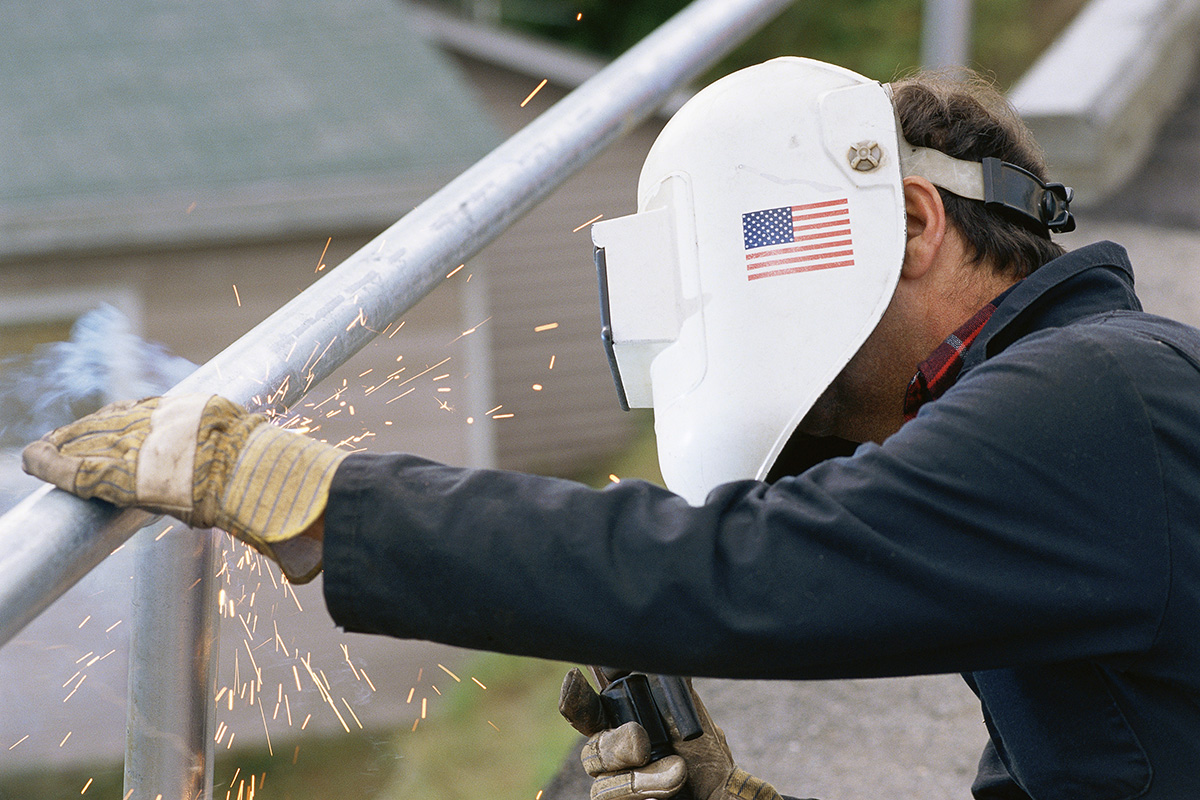 Fulfillment Center Conveyor Crossover Bridge Case Study
BIG improved efficiency in a busy distribution center by installing an ErectaStep crossover bridge system to provide safe and easy access over conveyor belts. Learn more about it here.
Applications for ErectaStep modular work platforms are as numerous as their potential configurations. Some examples include raised industrial walkway, gas pump station crossover stairs, generator access stairs and work platform, rooftop crossover stairs, conveyor crossover stairs, and crossover ladders and platforms.
For more examples, click here.
Curious about prices? Learn about crossover installation costs. Interested in safety? Learn more about safety compliance and OSHA 1910 codes.
Related Safe Access Equipment
Need an Industrial Crossover Stair Solution? Contact Banks Industrial Group Today
Banks Industrial Group is your source for industrial crossover stair systems. Offering onsite consultation with immediate, on-the-spot quotations for stair, ladder, and access platform configurations, Banks Industrial Group can design your ideal solution within minutes and install in a matter of hours.
Banks Industrial Group specializes in above-ground storage tank insulation, protective coatings, concrete, and related maintenance and repair services. Our innovative, and cost-saving solutions help keep your facility running efficiently. For more information about our industrial crossover stairs, contact our team today by calling 856-687-2227.
How does ErectaStep arrive to my worksite? Do I need a crane to put them on a roof?
ErectaStep components will arrive flat-packed on pallets complete with a tool kit required for installation.
No need for a crane for rooftop applications. If one is available, it will be helpful, but each component can be broken down to be carried to a roof by one or two technicians on stairs or via service elevator.
Can my workers install and build ErectaStep? What tools are needed?
Do the platforms need to be anchored? How to anchor ErectaStep?
Are the handrails easily mounted?
Can I modify my ErectaStep system after purchase?
If my factory floor changes, can I reuse this system?
What is the issue with having our workers fabricate a set of stairs?
Businesses with the resources can absolutely have their own people fabricate stairs. However, they should weigh the cost of compliance into that equation. Will a homemade solution be compliant with the numerous regulations set forth by OSHA or IBC-codes?
How do I know that the product is OSHA compliant?
Will this product meet our building code?
Can you provide an engineering stamp for ErectaStep?
Are ErectaStep products CA-65 compliant?
Are these products ADA compliant?
What is the cost of a crossover?
The cost of a crossover starts with a few questions. Does your crossover need stairs or ladders? What is the walking height or clearance required? How far does it need to span?
Erectastep varies in cost depending on the combinations of products used, but the stair components average about $596 per step while ladders average about $628 per ladder rung. Each stair or ladder rung has a rise of 9", so you can figure out the walking height required with some simple math. Finally, the span of the crossover matters too – each walking platform comes in 3-foot increments and typically is flanked by two handrails. The cost of each platform with handrails will average about $598 per linear foot.
For example, a four-step stair crossover with a single platform and handrails in the middle should cost:

Left stair = 4 * $596 = $2,384
Right stair = 4 * $596 = $2,384
3-foot platform plus handrails = 3 * $598 = $1,794
Total = $6,563 plus applicable shipping and/or sales tax
How long does it take to produce a quote?
What is the lead time for standard products?
What is the maximum height an ErectaStep platform can go to and what's the longest span without a support the platform can go?
ErectaStep can rise 15 steps before a landing is required to meet OSHA codes (every 12' of vertical rise).
A standard off-the-shelf product can go up to 20 steps, or a walking height of 15'. Custom supports can be designed for higher.
9' or 3' platforms is the longest span.
What clearance does each crossover provide?
How high is the top of the walk surface?
What is the weight rating of each platform?
What is the rise and run of the stair units?
How wide are the stair treads?
Do you have removable handrails?
What finishes are available? Can it be made in steel?
Are diamond plated platforms available?
How heavy are these products?
Is ErectaStep made in the USA?