Industrial Safety Gates from YellowGate
Fall protection is an essential part of workplace safety. Industrial facilities and work sites are often home to tall platforms, large drops, and hazardous equipment. To keep workers safe, OSHA 1910.28 and other workplace regulations require employers to use gates, guardrails, or similar measures to protect workers from falls and falling object hazards.
If you need to fortify your facility against fall hazards, Banks Industrial Group has a solution: YellowGate industrial safety gates. Built to comply with OSHA 1910 codes, YellowGate industrial safety gates offer twenty inches of adjustable length, adjustable swing direction, and universal mounting system to protect every passageway—all under one SKU.
OSHA Fall Protection Applications
YellowGate industrial safety gates are versatile enough to improve the safety of numerous structures, including:
Industrial ladders
Portable platforms
Handrail openings
Doorways
Raised work platforms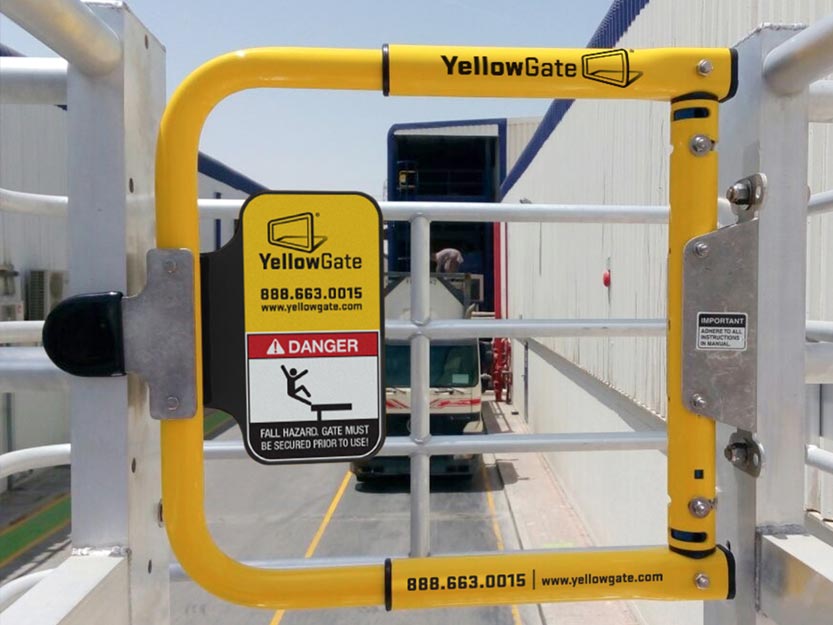 Twenty inches of adjustable length—from 16″ wide to 36″.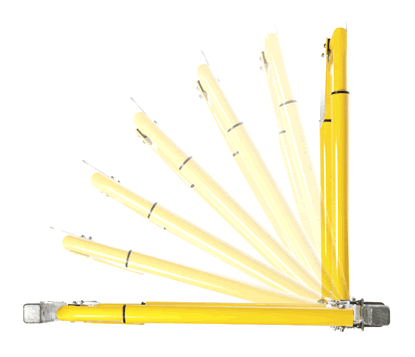 YellowGate can swing either in or out by simply relocating two bolts. Adjust tension to meet local requirements. The special design addresses a safety gate's most common failure point: the spring.
Adjustable Width
With 16″ to 36″ adjustability, YellowGate's single SKU covers the largest opening distance of any swing gate on the market. To choose your width, simply slide the gate to the desired width and fasten the adjustment bolts on the top and bottom rails.
Inline mounting covers openings from 19.625″ to 36.″ Perpendicular mounting covers openings from 16″ to 32.625.″
Swing Versatility
YellowGate's universal swing reduces ordering complexity and allows you to re-purpose gates as required.
Changing the direction of a YellowGate's swing is as simple as changing a few bolts. With other gates, changing swing direction requires either part-flipping or adjusting the mount position. This restricts installation flexibility. YellowGate swing changes are made by relocating two bolts and adjusting the tension—a process that only takes minutes to complete.
YellowGate opens to a maximum angle of 108°.
---
Universal Mounting
YellowGate's universal mount installs in minutes using simple hand tools. No cutting, welding, or drilling required.
The mount can be fixed to walls, square tubing, round tubing, and angle irons in both perpendicular and parallel mounting positions: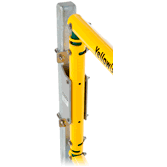 Perpendicular mounting is commonly used to accommodate industrial ladders and other narrow openings. By placing the mount and hinge point outside of the passageway, you can maximize access width while minimizing dangerous snag potential.
Parallel mounting is often used to protect workers from large openings. Users can attach the mounts in a parallel manner that aligns each gate handrail with a hinge point, creating a safe and continuous barrier.
YellowGate Industrial Safety Gates for Versatile Fall Protection
Nothing is more important than worker safety. With YellowGate industrial safety gates, you can protect your staff from hazardous openings and comply with modern safety standards. Contact Banks Industrial Group today to learn more about how YellowGate products can keep your facility safe and up to code.
Banks Industrial Group specializes in above-ground storage tank insulation, protective coatings, concrete, and related maintenance and repair services. Our innovative, and cost-saving solutions help keep your facility running efficiently. For more information about our industrial safety gates, contact our team today by calling 856-687-2227.