Pallet Rack Protection
Keep your warehouse racks safe from damage and collapse with A-SAFE pallet rack protection systems from Banks Industrial Group. RackGuard pallet rack leg protectors and iFlex EndGuards from A-SAFE increase warehouse safety and efficiency by:
Protecting the structural integrity of pallet racks from impacts and collisions
Reducing the risk of collapse by transferring energy around the rack leg rather than through it
RackGuard pallet rack leg protectors and iFlex EndGuards are both designed to flex and recover after impact. Thanks to the strength of polymer construction, our pallet rack protectors provide lasting protection, even after multiple collisions.
Pallet Rack Protection Contact
Use this form to contact us via email or call us at: 856-687-2227.
Need Pallet Rack Leg Protectors?
The Benefits of A-SAFE Pallet Rack Protectors
Proven Safety
Scientifically engineered and tested for safety
Damage Prevention
Patented energy absorption system dissipates impact forces
Structure Protection
The polymer construction cushions and defends rack columns against fork bumps, scrapes, and penetration
Rack Leg Protection
RackGuard transfers impact force around the rack leg instead of through it, protecting the leg structure
Firm Grip
Friction grips firmly hold RackGuards in place
Cold Storage Option Available
Cold Storage models withstand impacts without cracking in extreme temperatures down to -22°F
Absorb Forklift Blows
EndGuards absorb and deflect glancing blows from turning forklift trucks
ANSI Compliance
Maintain compliance with ANSI MH16.1 standards for utilization of steel storage racks
Resilient Surface
Surfaces are food-safe, easy-to-clean, and water-resistant
No Floor Damage
EndGuards absorb and disperse impact forces to protect anchors and prevent floor damage
Maintenance Savings
Self-colored, UV stable polymer does not rust and won't need a new paint coat
Repair Savings
Impact energy is dissipated, reducing damage to the guard rails, floor, and forklift
Expert Consultation
A consultation with BIG will uncover the ideal solution for the vehicles at your facility
Convenient Installation
Fast, safe installation with minimal disruption by our factory certified crews
iFlex RackGuards Prevent Damage to Pallet Rack Legs
iFlex RackGuards prevent impact and scrape damage to the front and sides of rack legs during loading and unloading. Built with frictional grip points and rubber compression hinges, iFlex RackGuards fit tightly around rack legs of all sizes for secure impact protection. Every RackGuard is supplied with a specially developed toolkit for easy installation and removal.
iFlex RackGuards are used to:
Protect rack legs, stock, and pallets against forklift and pallet truck damage
Dissipate impact energy around the leg rather than through it
Protect racking uprights against fork penetration damage
Protect Vulnerable Rack Ends
iFlex RackEnd pallet rack guard rails shield the ends of aisles where turning forklifts can impact rack structures. The circular end posts on RackEnd guard rails provide additional protection on the most susceptible impact points. Innovative spinning collars built into the end posts also enhance impact deflection and dissipation.
iFlex RackEnd pallet rack guard rails are used to:
Protect pallet racks from damage and collapse
Deflect glancing blows from turning forklift trucks
Prevent forklift fork impact damage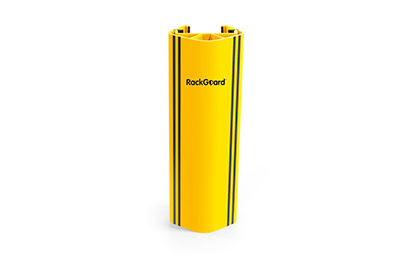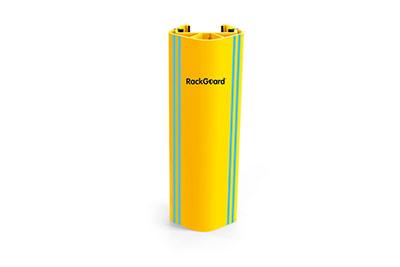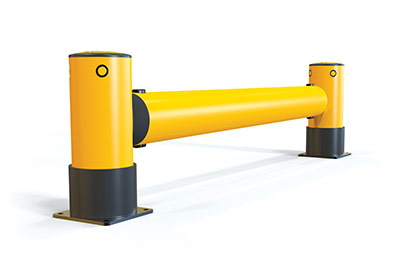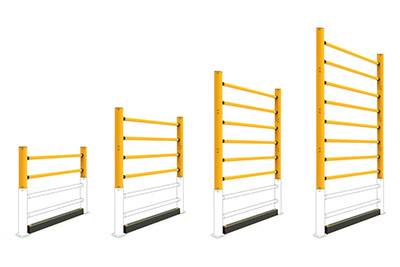 ---

Related Warehouse Safety Items
Banks Industrial Group Is Your Source for A-SAFE Pallet Rack Protectors
BIG provides single-source service for the sale and installation of A-SAFE pallet rack protectors. We are safety-oriented, ISNetworld certified A+, and fully insured to reduce your risk. If desired, we can also train your staff to perform the installation.
Banks Industrial Group specializes in above-ground storage tank insulation, protective coatings, concrete, and related maintenance and repair services. Our innovative, and cost-saving solutions help keep your facility running efficiently. For more information about our pallet rack protectors and other industrial solutions, contact our team today by calling 856-687-2227.