Portable Stairs
OSHA & IBC Compliant Configurations, Steel or Aluminum Construction
Banks Industrial Group provides a painless solution for temporary metal stair installation. Our prefabricated portable stairs are designed to be fully compliant with OSHA and IBC standards and regulations. We offer a variety of models shown below. Our representatives can help you determine which configuration will best meet your requirement. Benefits include:
Fast, bolt together assembly and modular design allow easy reconfiguration

Heavy-duty aluminum or powder coated & galvanized steel models are available

Non-slip decking and steps keep employees and pedestrians safe from slips and falls

Height adjustable models for easy leveling on uneven surfaces

Suitable for interior or exterior use

Use for modular office trailers, job site work trailers, temporary classrooms, temporary housing, semi-trailers, construction and industrial sites

Install yourself, or have us do the installation
Mobile Office Trailer Stairs
OSHA compliant aluminum stairs ideal for office trailers that are regularly moved.
---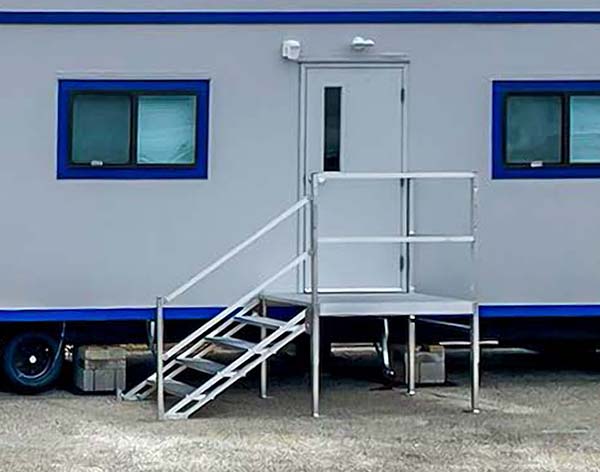 Completely adjustable, always OSHA compliant
Our Upside Innovations Omni portable stairs are OSHA compliant and adaptable to different work site terrain. Independently adjustable leg height combined with pivoting riser lets you reach the trailer threshold and level the platform on uneven ground contours. These job trailer steps are robust, yet remain light weight and easy to move which makes them well suited for trailers that are frequently relocated. Omni stairs are pre-fabricated and bolt together for fast assembly. Use for mobile offices, construction trailers, equipment access and work platforms.
Parallel or perpendicular stair configurations available

Four sizes: 21–26" | 28-35" | 35-44" | 42-52"

Fully adjustable between two specified heights to match threshold

Accommodates uneven ground with independently adjustable legs and pivoting stairs

Knurled, non-slip extruded decking for excellent traction

Fast assembly in 10 minutes
Loading Dock Steps
Sturdy, OSHA compliant aluminum steps for warehouses and distribution centers.
---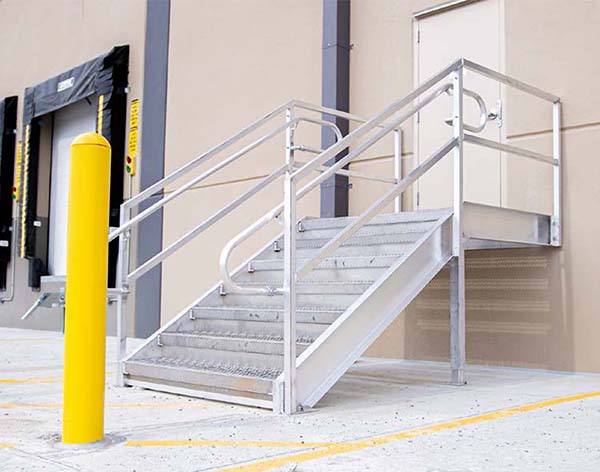 Industrial-grade aluminum, built to last
Banks Industrial Group supplies OSHA and IBC compliant loading dock stairs to provide safe access in warehouse loading areas. Our stairs are built to last with heavy-duty aluminum construction that will not rust, warp or rot. Both guardrail and handrails with 12" loop and return systems are available. Stairs are pre-fabricated and bolt together for fast installation. They also have 9" of vertical adjustment to facilitate leveling the platform with your dock or adapting to uneven surfaces.
OSHA and IBC compliant models available

Heavy-duty construction gives long service life

Aluminum will never rust, warp or rot

Non-slip open diamond serrated tread

Fast installation takes about an hour, no welding required

9" of vertical adjustability to level platform with loading dock

Certified installation service available
OSHA Model Aluminum Steps for Trailers
Safe access for 48" trailers. Easy to move when not in use.
---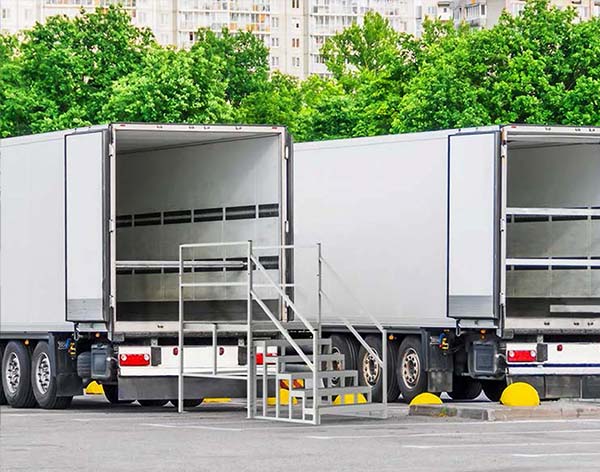 Portable, lightweight and durable
We provide OSHA compliant semi-trailer steps that allow safe, non-slip access for workers. Our Upside Innovation stairs are low maintenance and will not rust which gives them a long life cycle. Aluminum is stronger than plastic and lighter than steel so these steps are durable and easily moved around the job site. 3 models of aluminum trailer steps are available: single top step, double top step and 48" x 57" platform.
Non-slip diamond serrated tread keeps workers safe from slips and falls

4' wide to allow two-way traffic

40" height so the last 8" step up to the trailer

Optional 48" height platform model is flush with back of trailer

Relocatable – weighs 72-86 lbs. so it can be lifted into the trailer

Optional casters are available