Warehouse Guard Rails and Installation Services
Physical barriers are key to creating safe and efficient warehouse facilities. Barriers—such as pedestrian guard rails, traffic barriers, and forklift curb guards—enhance workplace safety by:
Protecting workers from potential dangers
Shielding equipment from collisions and other workplace accidents
Fortifying structures against impact damage
To enhance workplace safety, Banks Industrial Group sells and installs A-SAFE warehouse guard rails. Suitable for both warehouses and other industrial facilities, A-SAFE guard rails use state-of-the-art polymers called MEMAPLEX and multi-component engineering for superior performance and longevity. A-SAFE's design enables the barriers to flex and fully recover after repeated impacts, leading to fewer repairs, lower annual maintenance, and greater worker protection.
A-SAFE Guard Rail Contact
Use this form to contact us via email or call us at: 856-687-2227.
Below, we explore the benefits of A-SAFE warehouse guard rails:
The Benefits of A-SAFE Warehouse Guard Rails
Proven Safety
Scientifically engineered and tested for safety
High Performance
80% impact absorption
Bounce Back
Flexible design absorbs forklift hits and returns to shape after multiple impacts
Pedestrian Protection
Separates forklift traffic to reduce accident risk, safeguard, operations and save lives
Asset Protection
Protect equipment and structures from vehicle collision, preventing costly damage and downtime
Driver Direction
Define traffic routes and provide visual guidance to drivers
Repair Savings
Impact energy is dissipated, reducing damage to the guard rails, floor and forklift
Floor Protection
A-SAFE barriers absorb and disperse impact forces to protect anchors and prevent floor damage
Maintenance Savings
Self-colored, UV stable polymer does not rust and won't ever need a new paint coat
Cold Storage
A-SAFE barriers withstand impacts without cracking in extreme temperatures down to -22°F
Surface Resilience
Surface is food safe, hygienic sealed, wipe clean and water resistant
Expert Consultation
A consultation with BIG will uncover the ideal barrier solution for the vehicles at your facility
Convenient Installation
Fast, safe installation with minimal disruption by our factory certified crews
Antiquated Steel Barriers Drive Up Maintenance and Repair Costs
---
Warehouse operators typically use steel barriers to protect their assets and infrastructure. Over time, forklift drivers inevitably hit these barriers again and again. To remain functional after repeat impacts, steel barriers must be professionally repaired and serviced.
If a steel guard rail is hit hard enough by a forklift, not only does it need to be replaced, but collision will also damage the floor where the rail was bolted. In these scenarios, facility operators must contend with:
Loss of product
Vehicle damage
Operator injuries
In addition to these cost factors, the resulting downtime will also negatively affect your bottom line. Unplanned downtime has a ripple effect—it can significantly increase costs, threaten production goals, and often causes downstream problems that magnify its consequences.
Read more about the cost of ignoring repairs.
Flexible Warehouse Guard Rails from A-SAFE Create Long-Term Savings
---
A-SAFE warehouse guard rails offer better protection and longer lifespans than steel barriers. Flexible polymer is three times stronger than steel and absorbs 80% of impacts. A-SAFE's polymer construction enables the guard rails to rebound to their original positions for continued protection. A combination of the internal mechanical design and the flexible polymer also redirects the impact away from the floor anchors, significantly reducing the chance of floor damage during a collision.
A-SAFE barriers also protect forklifts from damage. Metal guard rails deflect impacts and shield what is behind them at the expense of the forklift and the guard rail itself. Once a metal guard rail is hit, not only do you have to repair or replace the barrier, but you have to fix the vehicle as well.
Altogether, A-SAFE guard rails save you from costs associated with the following:
Downtime
Barrier replacement
Vehicle damage
Floor repair
Equipment/infrastructure damage
Human injury
In addition to these savings, no repainting is required. The self-colored yellow polymer hides scrapes for lasting visibility. Overall, you can expect a return on investment in just 19 months or less from reduced maintenance needs, lower repair costs, general incident prevention, and downtime avoidance.
Read more about the appropriate physical barriers for your needs.
---

Modular Guard Rail Configuration Options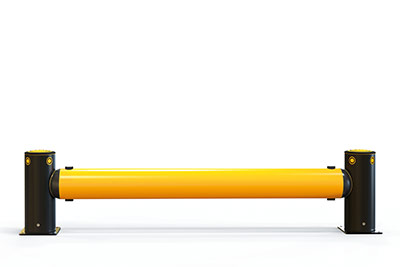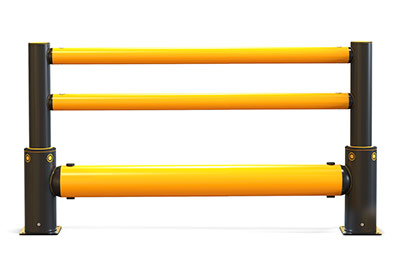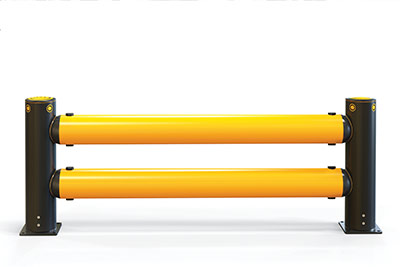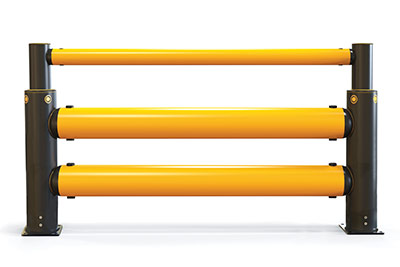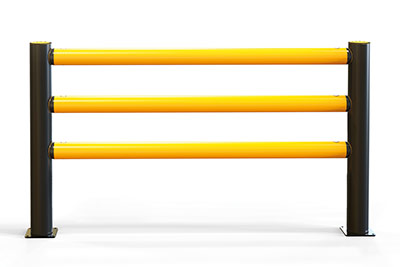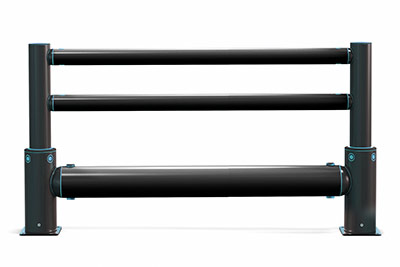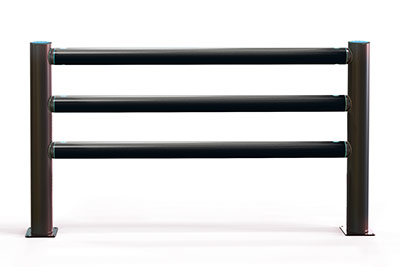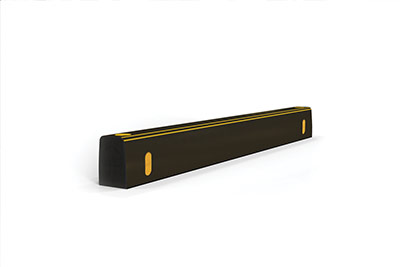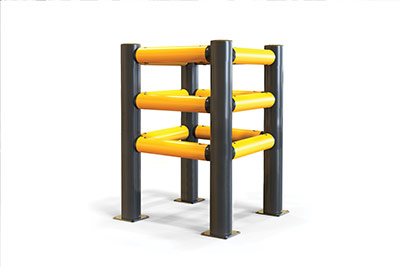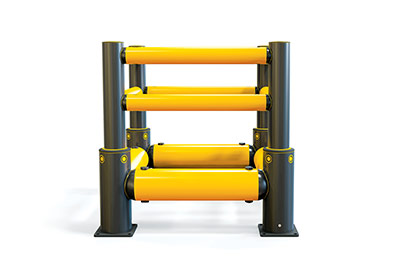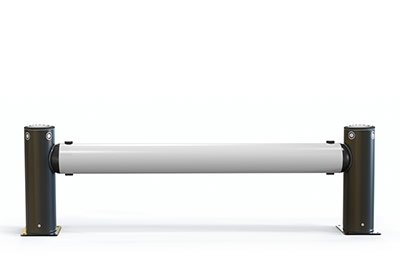 Save Money and Protect Your Workers with A-SAFE Warehouse Guard Rails from Banks Industrial Group
Banks Industrial Group provides single-source service for the sale and installation of A-SAFE warehouse guard rails and safety barrier systems. We are safety-oriented, ISNetworld-certified A+, and fully insured to reduce your risk. If desired, we can also train your staff to perform the installation.
Banks Industrial Group specializes in above-ground storage tank insulation, protective coatings, concrete, and related maintenance and repair services. Our innovative, and cost-saving solutions help keep your facility running efficiently. For more information about our A-SAFE warehouse guard rails, and other industrial solutions, contact our team today by calling 856-687-2227.