Industrial Concrete Repair Services
Restore and preserve your infrastructure
Banks Industrial Group provides specialized services for the repair, protection and strengthening of concrete, brick, block and tile surfaces located within harsh industrial environments. We begin each job with an analysis of the problem, operating environment and customer requirements in order to recommend an appropriate repair and/or protection solution that takes all factors into consideration.

Our work crews are safe! We are fully insured, OSHA compliant, ISNetworld Certified A+ and members of the Delaware Valley Safety Council.

We pride ourselves on the ability to problem solve and will never provide a solution excessive or ill-suited to your needs. Services we provide include:
Repair of spalled and cracked concrete

Correct concrete gaps, voids and trip hazards

Easily fix vertical and overhead concrete deterioration

Resurface chemical containment areas, sumps, drains, holding areas

Repair and protection of deteriorated equipment foundations

Grouting, void filling and bonding of equipment

Restore structural integrity of concrete pipes, columns and beams

Seal and repair expansion joints

Protect against groundwater infiltration

Protective lining of manholes, surge chambers, utility vaults, holding vessels

Grout injection sealing of water leaks from concrete seams, cracks and holes

Repoint, replace and reinforce run-down brick and block areas

Fix damaged acid brick and tile

Gunite installation for refractory, slope stabilization and concrete repair

Apply intumescent and cementitious fireproofing

Install specialized chemical and impact resistant materials

Implement fast-cure materials for minimal downtime
Request Concrete Estimate
General Concrete Repair
We repair spalled and cracked concrete, trip hazards, and overhead deterioration including sidewalks, stairs, docks, garages and more.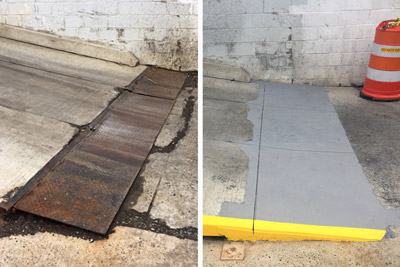 Structural Concrete Repair
BIG provides structural concrete repairs for load bearing surfaces, retaining walls, ramps, decks, building structures, spillways and more.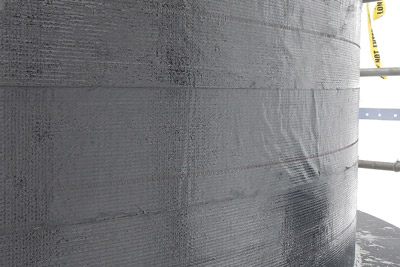 Concrete Strengthening
We fix thin-wall and through-wall defects in concrete and steel pipes to restore structural integrity by using advanced fiber wrap systems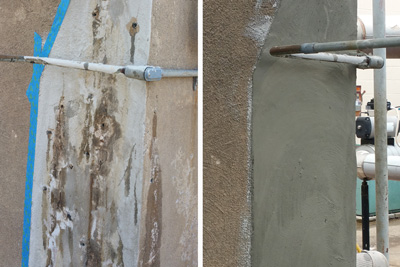 Grout Injection Leak Sealing
We seal leaking cracks and seams in concrete structures using advanced epoxy and polyurethane crack injection systems.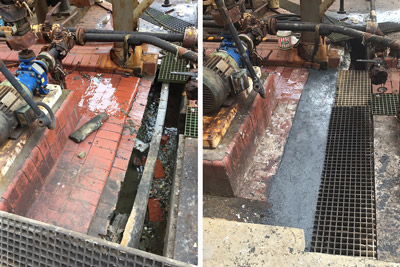 Industrial Grouting
Expert application of grout is available for sealing joints, machinery support and chemical resistant void filling in industrial environments.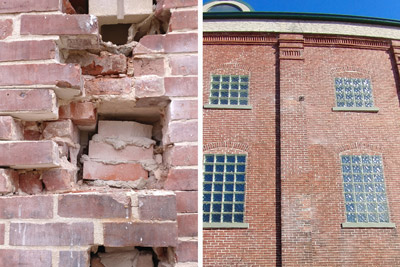 Brick & Block Repair
BIG provides repointing, replacement and reinforcement/tie back systems to correct damaged and deteriorated brick and block work.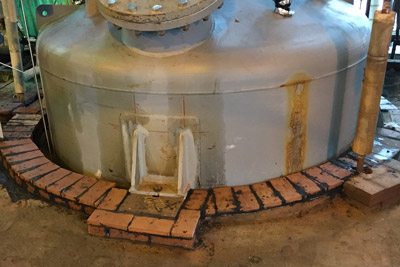 Acid Brick & Tile Repair
BIG provides expert repair and replacement of acid bricks and tiles that have deteriorated from prolonged exposure to chemical attack, heat and abrasive wear.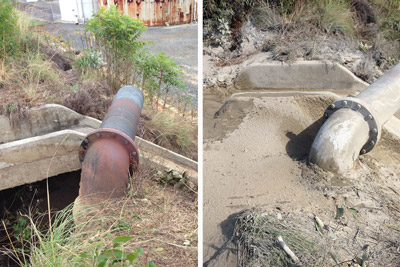 Gunite & Refractory
We apply light to dense range gunite for heat, chemical and abrasion resistant protection of process vessels, boilers and duct work in refineries.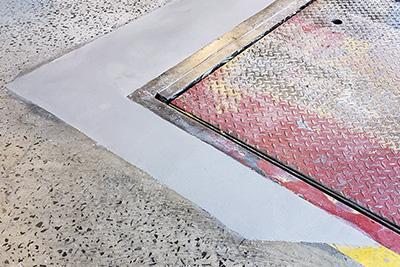 Loading Dock Concrete Repair
Fast repair of concrete spall, cracks and holes around dock leveler curb angles, bumpers, pads, pit sidewalls, drain grates and expansion joints and more.