Containment Coatings and Repair Services
Banks Industrial Group (BIG) provides containment coating and repair services for secondary containment areas vulnerable to chemical exposure, deterioration, and settlement cracking. Our company repairs or replaces damaged concrete substrates and applies epoxy coatings to prevent corrosion and other types of damage.
Need Containment Coating Work?
Benefits of BIG's Containment Coatings and Repair Services
Environmental Protection
Our containment coatings and repair services protect your local environment against chemical spills, leaks, and contamination.
Extended Service Life
We prolong the service life of secondary containment, sumps, pits, channels, and bases.
Avoid Reconstruction Costs
You can avoid costly reconstruction by restoring damaged concrete, including resurfacing, crack repair, and expansion joint sealing, using our expert services.
Reduced Downtime
BIG's coatings and repair services can reduce downtime for maintenance with cold-applied and fast-curing materials.
Lower Maintenance Costs
Our long-lasting, polymeric protection will decrease your maintenance costs substantially.
Chemical Exposure Protection
Our coatings protect concrete, tile, and metal from damaging acid or caustic chemical exposure.
Disbondment Prevention
Our coating products provide a high level of adhesion and flexibility to both bridge cracks and prevent disbondment.
Impacts and Abrasion Protection
BIG's coatings provide exceptional compressive strength and resistance to impacts and abrasion.
Safe Application
Our coatings are cold-curing, solvent-free, no-VOC materials.
Secondary Containment Area Deterioration Case Study
Problem: Secondary containment area deterioration increases the risk of environmental contamination
Primary hazardous material containers are surrounded by secondary containment areas to prevent chemical spills from entering groundwater and the local environment. Those areas can deteriorate from chemical exposure, settlement cracking, freeze/thaw cycles, and impact damage. In the event of an accident, such disrepair can jeopardize protection and could result in environmental contamination.
Owners need to assess the extent of damage to the underlying substrate due to wear, chemical exposure, or cracking. In extreme cases, the concrete may need to be replaced entirely. A coatings expert should be consulted to determine the type of coating that will protect the concrete within the containment area from chemical spills and splashes.
Federal, state, and local governments regulate secondary containment areas. Fines can be imposed for not correctly maintaining containment areas. And the cleanup and legal costs associated with hazardous material leaks can be substantial.
Solution: Rebuild or replace damaged concrete and protect it with an appropriate coating
Owners should evaluate, repair, or replace the underlying substrate based on the extent of damage. They should assess the substrate to determine if it can handle a coating appropriate to the chemical risk.
Polymeric epoxies are proven to last for secondary containment repair and protection. Chemically engineered and tested materials ensure high performance in harsh industrial environments. Depending on the chemical in storage, these materials can be matched for resistance.
Our repair mortars and protective coatings are safe, solvent-free, cold-applied, fast-curing, and strong bonding. We apply them fast and with minimal downtime. Our containment coatings and repair services ensure long-term protection and peace of mind that legal and environmental risks will be mitigated.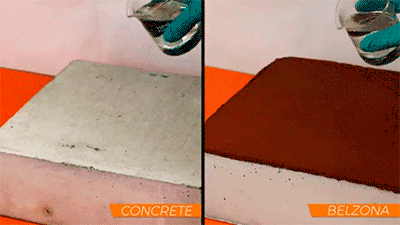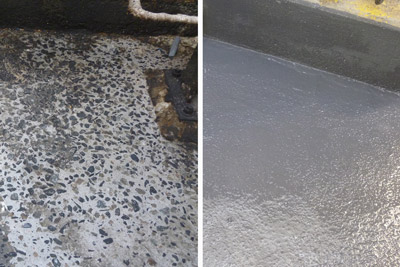 Industry-Leading Containment Coatings and Repair Services
At Banks Industrial Group, we use polymeric repair mortars to patch and rebuild damaged containment walls, floors, bases, and sumps. These materials offer excellent compressive strength, good impact resistance, and durable adhesion to concrete. We can provide specialized formulations to withstand extreme chemical exposure and scale the solution to meet your requirements.
Additionally, we apply protective barrier coatings to enclose and protect existing and newly constructed containment areas. We offer a variety of high-performance formulations that can tolerate mild, dilute, or concentrated chemicals, even at high temperatures and concentrations. Strong bonding characteristics prevent delamination and allow for application over existing coatings.
To achieve optimal long-term protection, we carefully match the choice of containment coating with operating conditions. We eliminate the need for frequent repairs by using the right coating to safeguard your containment structure. We provide expert consultation and site evaluation to match the best materials to your operating environment.
See our blog post Spilling the Facts on Secondary Spill Containment to better understand when, why, and how secondary spill containment should be a part of your operational safety protocol.
Banks Industrial Group specializes in containment coatings and repair services, above-ground storage tank insulation, protective coatings, concrete, and related maintenance and repair services. Our innovative and cost-saving solutions help keep your facility running efficiently. For more information about our concrete floor repair and other industrial solutions, contact our team today by calling 856-687-2227.