Overhead & Vertical Concrete Repair Service
Fast, Durable Solutions To Extend Asset Service Life
Banks Industrial Group is a Philadelphia based maintenance company that provides overhead and vertical concrete repair service. Most repairs are performed and ready for service on the same day. Our proven Belzona materials cure in hours and do not require the use of shuttering, with only minimal support during application. Hi-build, fast-cure qualities allow work to be completed with minimal downtime, especially compared to conventional concrete which requires shuttering and 28 days to cure.
Damaged concrete for vertical and overhead applications

Concrete columns, beams, archways, and bridges

Window lintels, sills and balconies
Fast curing for minimal downtime – most repairs are done and ready for service in hours

Hi-build allows up to 5-inch depth vertical, 3-inch depth overhead in a single lift

No shrinkage regardless of thickness applied

Greatly reduced need for shuttering and forms allows fast repair work

Lightweight and durable – stronger than concrete

Excellent chemical resistance

Feather edge and tint to match existing substrate

Solvent free materials reduce health and safety risks
Problem: Gravity and Long Cure Time Make Vertical Repair Difficult
Over time, concrete structures may crack and spall due to factors such as poor installation, corrosion of rebar, freeze-thaw cycles, chemical attack, temperature fluctuations and impact damage. While concrete repair itself is a complex task, vertical concrete repair presents a unique set of challenges that demand specialized techniques and expertise.
Gravity, limited access and long curing time make repairing vertical concrete difficult. Gravity acts against the repair material in vertical and overhead repairs, leading to slumping and poor bonding. Contractors use shuttering to provide temporary support and containment until the fresh concrete cures and gains sufficient strength. Unfortunately, prep work and the 28 day cure-time needed for concrete cause downtime, financial losses and hindered access.
Solution: Use Rapid-Cure, Hi-Build Polymer Repair Materials
When it comes to vertical concrete repairs, selecting the right repair material is crucial to ensure effective restoration, durability, and long-lasting results. In many cases we use proven Belzona 4141 Magma Build epoxy composite for overhead and vertical repairs.
Belzona 4141 cures rapidly, ensuring the restored area quickly regains its structural integrity. It can be applied without shuttering and only minimal support, reducing prep work. Additionally, it exhibits exceptional adhesion properties, enabling it to bond strongly with various substrates, even on vertical and overhead surfaces. This strong bond reduces the risk of delamination or detachment over time.
Belzona 4141 also offers excellent chemical resistance, safeguarding the repaired area from corrosive substances commonly found in industrial environments. The repair material has a proven track record, with successful applications of concrete repairs worldwide.
Vertical and overhead concrete repair is a specialized endeavor that requires meticulous planning, technical expertise, and experienced professionals. Overcoming gravity, ensuring proper surface preparation, and achieving seamless material application make this a complex process. By understanding and addressing these difficulties, Banks Industrial Group can ensure the longevity and structural integrity of your concrete infrastructure.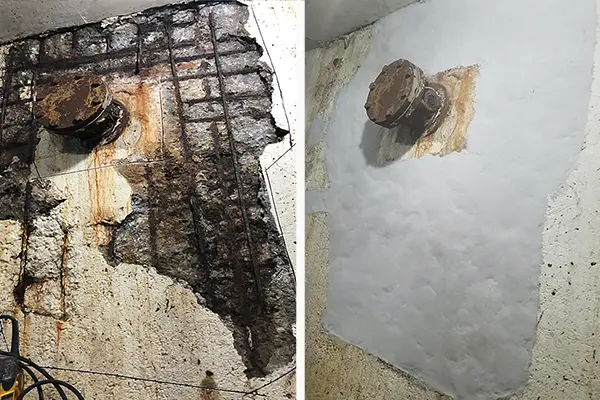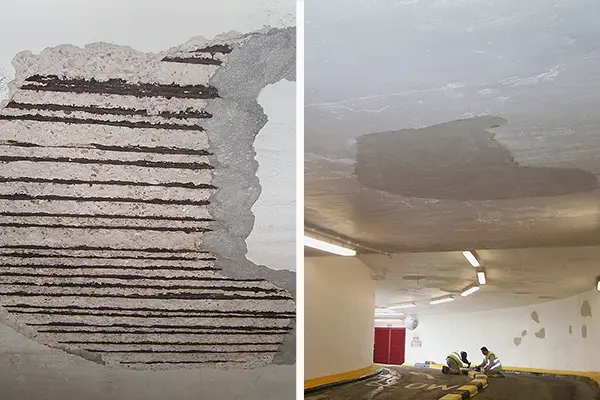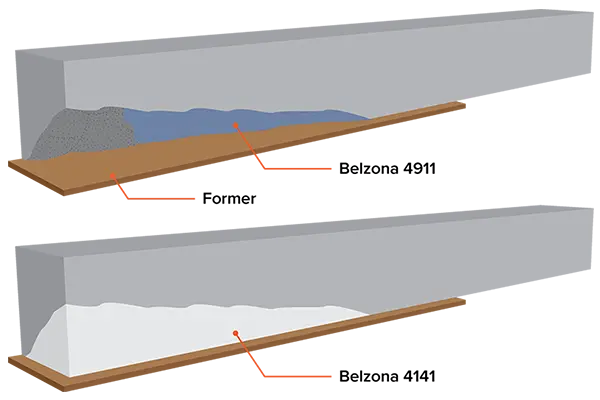 How To Repair A Concrete Ceiling Without Forms
Watch a short video demonstration showing how Belzona 4141 is used to repair overhead concrete.
Banks Industrial Group is Philadelphia's Source for Overhead & Vertical Concrete Repair
Banks Industrial Group provides overhead and vertical concrete repair services. We are safety-oriented, ISNetworld certified A+, and fully insured to reduce your risk.
Banks Industrial provides overhead and vertical concrete repair services for ceilings, walls, beams, columns, balconies and lintels in commercial and industrial buildings. We understand the high cost of downtime and work diligently to apply an effective, long-lasting repair with a fast return to service. For more information about concrete repair and our other industrial solutions, contact our team today by calling 856-687-2227.
---

Related Products & Services