Industrial Pipe Insulation Service
Increase Energy Efficiency, Reduce Costs, Prevent Corrosion & Freeze Damage
Banks Industrial Group provides turnkey insulation service for industrial pipe systems including new construction, retrofit and repair work. We save you hassle by taking care of all project phases including sizing, design, material supply, custom fabrication and installation. Our ISNetworld, Avetta and BROWZ memberships give you certainty that BIG is a reliable contractor with a proven safety record. You can count on us to accurately review your operating conditions and match the right materials to give long-term, trouble-free service. We help you:
Increase energy efficiency and reduce operating expense by decreasing heat loss/gain

Control and stabilize process temperatures

Prevent formation of condensation and limit pipe corrosion

Protect against freeze/thaw damage and pipe breaks

Shield workers against injury from exposure to extreme temperatures

Lower noise and vibration that travels along pipeline

Insulate with non-combustible and fire-resistant materials

Use insulation materials that are environmentally safe
Quality Insulation Materials
For heavy-duty industrial applications, we use aluminum-jacketed insulation for its durability and water resistant characteristics. Our selection of proven insulation materials includes: Fiberglass, Foamglas and Calcium Silicate, which suit a wide variety of applications. Water resistant Belzona® Lag Seal coated insulation is available. We now offer Belzona® 5871 cool-to-touch, anti-corrosion insulation.
The table below compares the advantages and disadvantages of our most common types of pipe insulation:
Fiberglass Insulation
Typical application is usually 2-inch thick with a .016 thick aluminum cover. Use for hot or cold applications ranging from 0°F to 850°F.
Advantages: least expensive, easy to work with.
Disadvantages: will lose insulation properties if it becomes wet. Easily crushed if the pipe is stepped upon.
Foamglas Insulation
Typical application is usually 2-inches thick with a .016 thick aluminum cover. Use for hot or cold applications ranging from -450°F to +950°F.
Advantages: water resistant, will not lose insulation properties if it gets wet. Will also dry out if it gets wet. Better for higher temperature pipe compared to fiberglass, more durable than fiberglass.
Disadvantages: higher cost than fiberglass, more involved installation. Can not be used on pipes exposed to vibration, which will deteriorate the Foamglas.
Calcium Silicate Insulation
Typical Calcium Silicate (aka cal-sil) application is usually 2-inch thick with a .016 thick aluminum cover. Use for high temperature applications ranging up to 1200°F.
Advantages: resistant to crushing from foot traffic.
Disadvantages: higher cost than fiberglass, not water resistant.
Belzona® Lag Seal Coated Insulation
Typical application is usually 2-inch thick fiberglass with Belzona® Lag Seal covering.
Advantages: water and weather resistant, fire resistant, less expensive installed cost than Foamglass, applies with a paint brush or roller, has a glass reinforcement sheet between coat 1 and 2, flexible, repairable/patchable, seamless, micro-porous allowing moisture within to evaporate.
Disadvantages: will not have same strength as Foamglas or Cal-Sil, more expensive than fiberglass, currently not a commonly used method of insulation.
Belzona® 5871 Cool-To-Touch Thermal Insulation & CUI Protection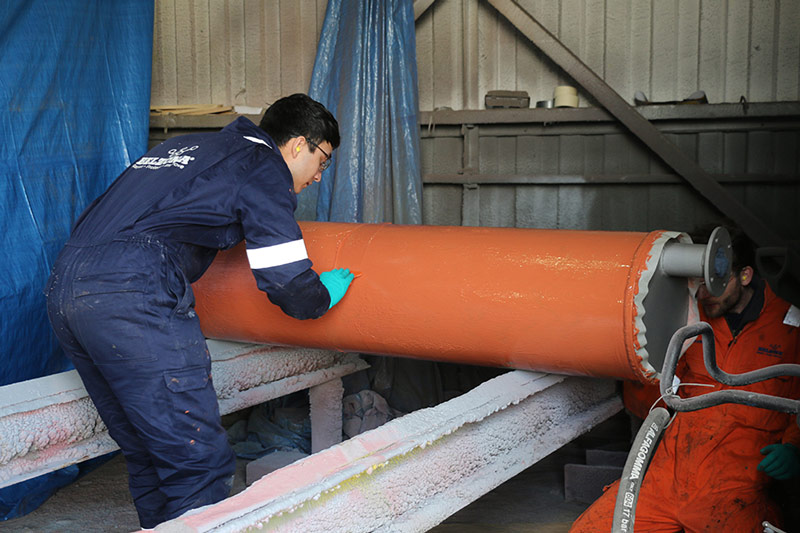 Cool-To-Touch Thermal Insulation Barrier
Belzona 5871 is an anti-corrosion thermal insulation coating with "cool-to-touch" qualities. It expands into a closed-cell foam three times the application thickness (e.g. 1mm application expands to 3mm cured thickness).
Belzona 5871 will increase thermal efficiency and help prevent condensation and ice buildup. Being "cool-to-touch" means 5871 will reduce surface temperatures. This protects personnel from contact burn injury. Additionally, 5871 provides excellent corrosion resistance. It also prevents corrosion under insulation (CUI) thereby extending asset service life.
Applications include: metal pipework, ducts, tanks, vessels and other industrial equipment. It is easily applied by brush or plural sprayer to small or large areas and complex geometries.
Belzona 5871 is solvent-free and will typically cure within 24 hours for a rapid return to service.
Suitable for use up to 302°F for typical dry conditions.
Save Money By Reducing Energy Costs
The beauty of thermal insulation is that it pays for itself, and then lowers your energy costs. It does this by reducing heat transfer between the pipe and surrounding environment. As a result your system will perform more efficiently with less heat loss or gain to be compensated. Similarly, insulation allows greater control to maintain process temperatures at the desired level.
Protect Pipes Against Corrosion
Properly sized insulation helps control water condensation on cold pipe surfaces and limits corrosion. To do this requires keeping the outer insulation surfaces at a temperature above the dew point of ambient air and creating a barrier to stop moisture penetration from reaching the pipe. BIG also offers specialized protective pipe coatings for further corrosion protection in problematic areas.
Resist Freeze Damage to Pipes
Cold temperatures put your pipe system at risk for freeze/thaw damage when internal condensation and water freeze. Properly sized insulation significantly reduces the chance of a pipe break by increasing the time required for water to freeze.
Shield Workers From Burn Injury
Insulation can be used to lower the outer surface temperature of process pipes and vessels to a safe level, reducing the risk of worker injury.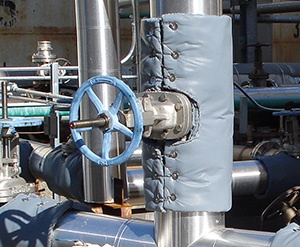 Removable & Reusable Insulation Blankets
Fill the energy wasting gaps where jacketed insulation can not be used. BIG custom tailors and installs insulation blankets to fit pipe valves, reducers, traps, stainers, expansion joints, pumps, heat exchangers and more. Our covers are easy to install, remove and reinstall for speedy maintenance work. Call today for more information.
The Advantages of Working With BIG
We start by examining the operating conditions and calculating insulation thickness, heat loss or gain, surface temperature, and other environmental considerations. This lets us configure an optimal solution to best meet your specific requirements. Our design software will show you return on investment for fuel cost savings, bare vs. insulated heat loss efficiency percentages, installed cost, maintenance, and other costs. Next, our experienced crews provide expert installation with minimal disruption to your facility. The end result is a cost-effective and energy efficient insulation system designed for long-term, reliable service.
How Can We Help You?
Please contact us today for more information or to schedule service.