Shaft Repair Service
Banks Industrial Group offers rapid, on site shaft repair services. We quickly restore metal loss using specialized Belzona epoxy metal composite materials proven effective for the rebuild of scored shafts, bearing seats and keyways.
Repair damaged shafts including: air handlers, industrial fans, wind turbines, conveyors, crushers, mixers, clarifiers, marine propulsion and more

Rebuild scored bearing locations on site without machining

Repair oversized keyways

Realign pins into oversized housings

Reseat bushings into damaged locations

Repair elongated coupling bolts/dowel locations
On site repair minimizes downtime

Avoid disassembly and removal of plant equipment for repair

Application and cure at room temperature – no hot work involved

Belzona materials bond tenaciously to almost any rigid surface including steel, aluminum, copper, stainless steel, brass, cast iron and more

High mechanical strength and heat resistance

Self-lubricating repair materials are available to create low friction surfaces
Problem: Worn Shaft Causes Shutdown, No Time For Repair Work
Bearing failure causes shaft damage such as grooving and gouging of bearing seat metal. Additionally, environmental debris, chemical attack, lack of lubrication and even grounding issues (for wind turbines) can wear down shafts. When these problems occur, the turning shaft becomes compromised, requiring shut down to prevent further damage or system breakage.
Typical applications:
Air Handler
Industrial Fan
Wind Turbine
Conveyor Roller
Mixer / Agitator
Crusher
Wastewater Clarifier
Marine Propulsion System
Repair work causes downtime and lost production. Quick repairs on site can minimize the associated costs. Unfortunately, traditional shaft repairs involve disassembling the machine and transporting it to a machine shop, a lengthy process. For larger shafts like wind turbines, this may require expensive crane work and roof removal. In some instances, repair might not be feasible at all.
Solution: On Site Epoxy Metal Shaft Repair
In situations where conventional repair is impractical or impossible, our team can perform shaft repair in situ at your site. Any size shaft can be quickly fixed without dismantling the machine completely. This expedites repairs and minimizes downtime and disruption at your facility. Most repairs are done in hours, not days or weeks. We use proven, durable Belzona epoxy metal to rebuild metal loss and restore the shaft profile for proper bearing seating or keyway fit.
These repairs last a long time. We use Belzona materials which resist impacts, abrasion and chemicals. We offer specialized self-lubricating formulations for wind turbine applications where friction can be problematic. We use a former to precisely match the shaft size and allow performance of the work on site quickly and durably.
Want To DIY?
Achieve self-reliance! We can teach your maintenance staff the necessary skills to handle these repairs. After training your team, we can provide you with the appropriate materials to stock on-site for emergency repairs. If your operation is experiencing frequent shaft issues, this solution presents a fantastic opportunity to save costs and minimize downtime. Contact us today to schedule a lunch and learn session!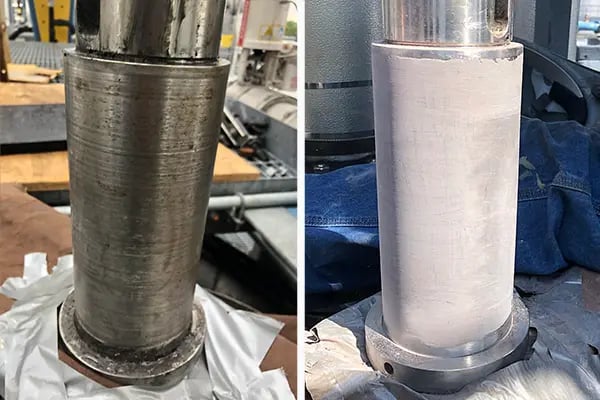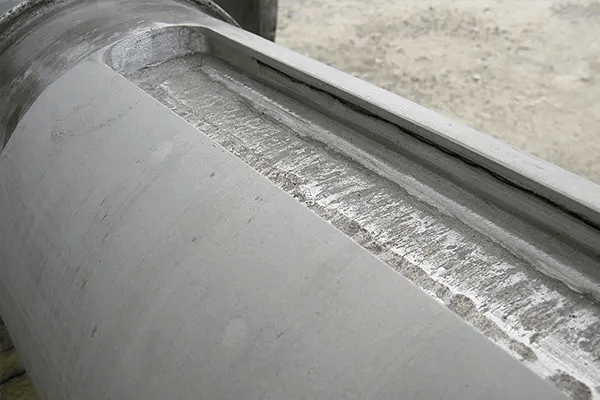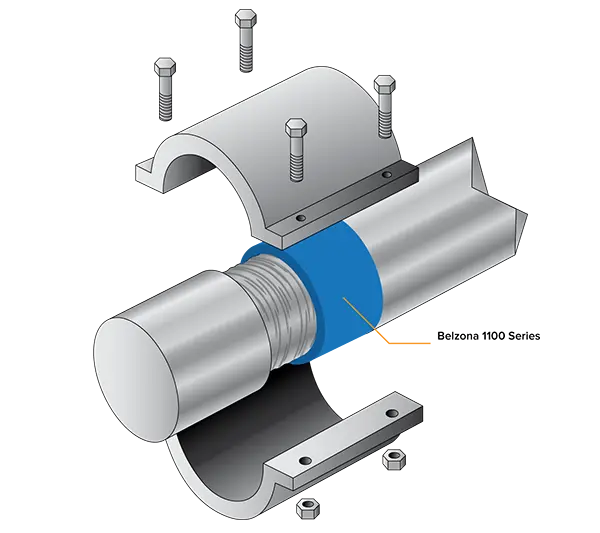 How to Repair a Worn Shaft Using Forming Techniques
Watch a short video demonstration showing how Belzona 1111 is used to to rebuild a run-down shaft using forming techniques.
Epoxy Shaft Repair Using A Lathe
Watch a short video demonstration showing how Belzona 1111 is used to to restore a scored shaft with final surfacing turned on a lathe.
Searching for On Site Shaft Repair Service? BIG Has You Covered
Banks Industrial Group provides on site service for the rapid repair of scored shafts and bearings. We are safety-oriented, ISNetworld certified A+, and fully insured to reduce your risk. If desired, we can also train your staff to perform the installation.
Banks Industrial Group provides shaft repair services for industrial applications. We understand the high cost of downtime and work diligently to apply an effective, long-lasting repair with a fast return to service. For more information about shaft repair and our other industrial solutions, contact our team today by calling 856-687-2227.