Soil-To-Air Pipe Corrosion Repair Services
The soil-to-air interface where pipelines transition from above to below ground is more susceptible to corrosion than either buried or raised sections due to numerous environmental factors, including:
High moisture content

Temperature variation

Oxygen exposure

Corrosive pH levels

Bacteria

Chemical contamination
Eventually, pipes weaken and deteriorate into thin-wall conditions. Wall loss increases the risk of leaks, safety hazards, contamination, and costly downtime. Unfortunately, traditional welded repairs require a lengthy shutdown and service outage. In either case, the lost productivity and inconvenience are highly undesirable.
Moreover, conventional welded repairs require lengthy shutdowns and service outages which can lead to a substantial loss in productivity. Banks Industrial Group (BIG) has a better solution: Belzona polymeric repair compounds.
These repair compounds provide long-term corrosion protection with excellent resistance to moisture, oil, and chemical attack. They can also be applied in-situ with minimum downtime, enabling you to easily prolong infrastructure service life without sacrificing daily productivity.
BIG's soil-to-air pipe corrosion repair services will help you:
Maintain safe pipeline operation

Prevent soil line corrosion

Repair thin-wall damage with minimum downtime
Need Soil Line Pipe Corrosion Repairs?
The Benefits of Banks Industrial Group Soil-To-Air Pipe Corrosion Repair Services
Restore Integrity
BIG's services restore lost structural integrity to pipes suffering thin-wall or holed conditions
Minimal Downtime
Belzona repair compounds are applied quickly during in-situ applications, causing little-to-no downtime
No Welding
Fast-curing, solvent-free polymeric materials eliminate the need for dangerous welding
Interface Protection
BIG's Belzona solutions shield pipes from corrosive conditions at the soil-to-air interface
Moisture Protection
Belzona ST Barrier protects pipes from the corrosive effects of constant moisture exposure and submerged conditions
Chemical Resistance
Repair materials used withstand exposure to chemicals, crude oil, and sea salt
Code Compliant
Belzona SuperWrap II systems are compliant with ASME PCC-2, DOT, and ISO24817 standards
Pressure Safe
Soil-to-air pipe repair solutions are suitable for safety-critical pressurized applications
Accommodates Pipe Contours
Repair compounds accommodate pipe contours, including bends, tees, reducers, and flanges
Belzona Polymeric Repair Compounds Can Solve Soil-to-Air Pipe Corrosion with Little-to-No Downtime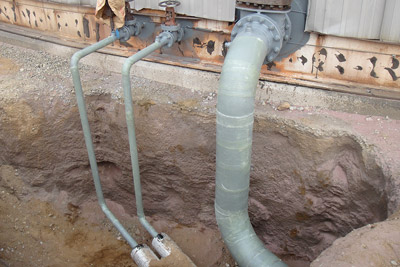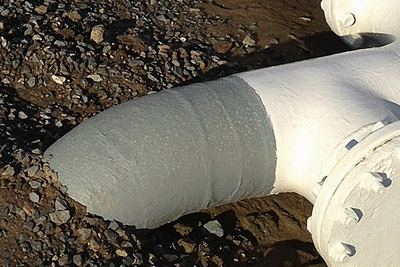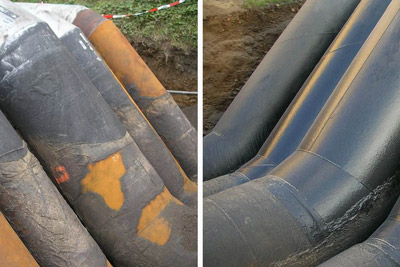 Polymeric repair compounds allow you to restore damaged pipes rather than replace them. Restoration offers significant savings in time and material by prolonging the service life of existing infrastructure and avoiding the lengthy process of welded pipe replacement.
Banks Industrial Group utilizes a combination of polymeric repair compounds with proven strength and durability in harsh industrial environments. Repairs are quick and are performed without hot work for in-situ application—with minimal-or-no downtime.
During restoration, BIG uses Belzona repair compounds to repair through-wall corrosion damage and rebuild thin-wall conditions. The team also uses Belzona SuperWrap II to restore lost structural integrity. After the structural integrity is repaired, the team seals the soil line area with ST Barrier to protect the pipe against corrosive soil conditions. ST Barrier is a moisture-tolerant epoxy coating that resists oil and chemical contamination, making it ideal for oil and gas applications.
Banks Industrial Group Is Your Source for Soil-To-Air Pipe Corrosion Repair Services
Banks Industrial Group provides long-lasting soil-to-air pipe corrosion repair services that cause minimal downtime. We can provide the materials and experienced professionals to repair your soil line corrosion, or we can train your crew on how to do it themselves.
Banks Industrial Group specializes in above-ground storage tank insulation, protective coatings, concrete, and related maintenance and repair services. Our innovative, and cost-saving solutions help keep your facility running efficiently. For more information about our soil-to-air pipe corrosion repair services, contact our team today by calling 856-687-2227.