PLACE INFRASTRUCTURE IN SERVICE FASTER
KEEP IT RUNNING LONGER
How Can We Help You?



Metal Repair
Fix corrosion, thin-wall, cracks and holes in pipes, tanks, pumps and mechanical equipment.
Learn about metal repair


Banks Industrial Group specializes in above ground storage tank insulation, protective coatings, concrete, and related maintenance and repair services. Our innovative, and cost saving solutions will repair and restore operations at your facility faster and keep it that way longer – simplifying your job and saving you money. Please call us today!
Customer Testimonials
We hope these kind words from our customers will give you a better idea of how Banks Industrial Group conducts business.
---
RE: Tank & Pipe Insulation Project
"With the completion of the recent tank and pipe insulation project, I would like to extend my appreciation for a job well done. As the terminal manager of this facility, it has been my pleasure to work with Banks Industrial Group, LLC. Not only was the quality of work outstanding, but the job was completed ahead of schedule and on budget.
The completion of this extensive project has improved the heat loss efficiency of the terminal, as well as provided an area that we are proud to display to our customers. In addition, with the scope of improvements your firm has provided, we now qualify for energy rebates through the State of New York.
Thank you again for your professionalism and expertise with this project."
Val S.
Terminal Manager
RE: Pipe Coating & Insulation
"I would like to thank you and your team for the pipe coating and insulation work that was recently completed at our facility. Pipe deterioration at the soil line has become a real concern at our facility which could lead to catastrophic consequences if not addressed. Prior to this repair, bitumen wraps were used to prevent external corrosion of the pipe and did not provide adequate protection that would last over a long period of time. Banks Industrial Group supplied us with a long term solution utilizing Belzona material solutions and completed the job with insulation that was professionally installed. In regards to this potentially disastrous situation,
Our problem was solved with one call to Banks Industrial Group
."
Alan C.
Area Supervisor
RE: ErectaStep Stairs Thank You
"In the industrial sector, there are usually a lot of proven companies with proven technologies, and costs differences that are fairly minor with regards to our large operating costs and down time costs. So the biggest thing for me is not price, but customer service! Banks knows what they are doing so I don't get a lot of questions, and they fix things when they say they are going to fix things. I like vendors that are "one call shops," where
I call with a problem and Banks, on their own, quickly looks at the problem and comes back with a solution, price, & schedule, so all I have to do is award the contract
."
Jamie M.
Tank & Pressure Vessel Engineer
Thinking BIG! Blog
Checkout these popular posts from our blog.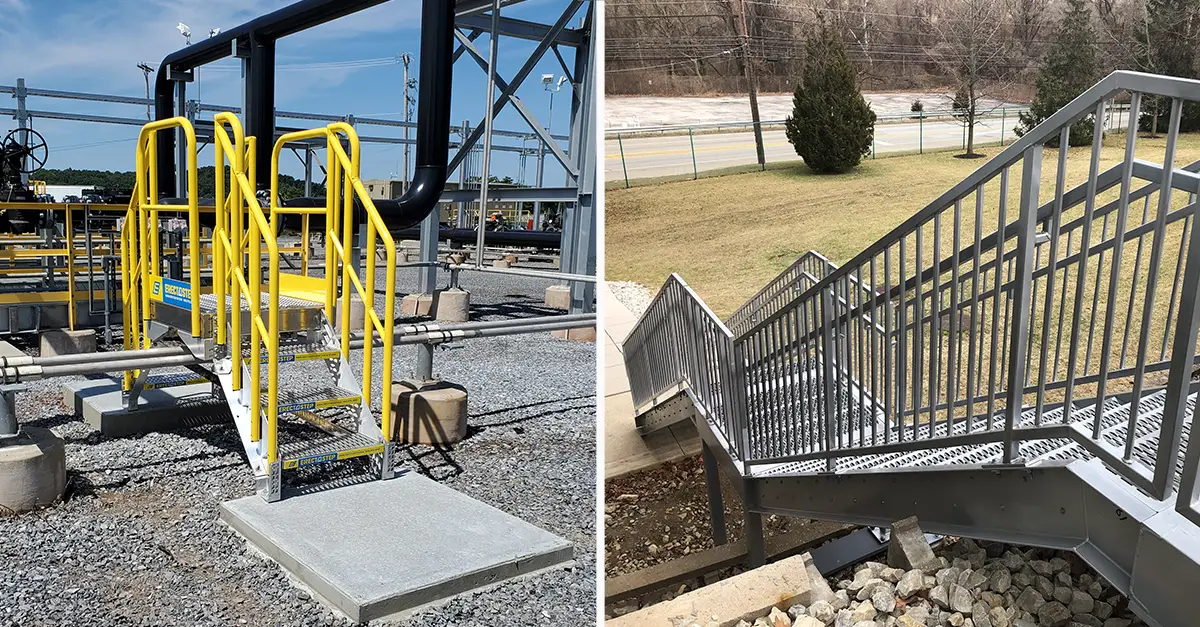 Stair Safety Requirements: IBC versus OSHA
Chris BanksOctober 18, 2022
Building owners and facility managers frequently ask questions when adding or replacing stairs in their facilities about compliance to code. Before...