Belzona Tank Base Sealing
We replace failed tank chime seals to stop water intrusion and protect tank bottoms against crevice corrosion
Banks Industrial Group provides installation of polymeric tank chime sealing systems to close gaps and protect tank bottoms against damaging corrosion. We also take care of deteriorated concrete bases and tank chime fillets that may also permit water to seep beneath the base. Our Seal-A-Tank system is proven to outlast conventional sealants and offers many benefits such as:
Prolong tank base service life by preventing water infiltration at the tank chime

Reduce risk of expensive tank bottom demolition and replacement

Increase tank reliability and productivity by avoiding costly downtime

Outlasts conventional sealants by many years which simplifies maintenance

Flexibility and strong bonding characteristics accommodate expansion and contraction movements of tank without breaking the seal

Breathable, microporous barrier allows release of moisture trapped below the base while keeping out external rain water

Chemical and heat resistance gives long-term performance in harsh environments

Offers safe, rapid installation that does not require a hot work permit

Supports easy repairability should the need ever arise

Reveal chemical or hydrocarbon leaks to inspection teams by staining a dark color

Shown to prevent a tank from floating off its foundation during flood conditions (since water cannot enter under tank)

Gives durable, long-term corrosion protection for peace of mind
Problem: Moisture seeping under tank chime creates risk of tank bottom failure
Conventional tank chime sealants are prone to rapid failure when exposed to weather, UV light and abusive operating conditions. Cracking, void formation and the disbondment of sealants at the chime angle permit water and atmospheric contaminants to collect under the tank base where they begin to cause corrosion. Left un-corrected, this corrosion will eventually create through-wall defects causing risk of product loss, contamination and potential failure of the tank bottom. The subsequent downtime, clean-up, repair and safety issues are painful and costly.
Furthermore, pooling water from rain, fire sprinkler and deluge systems and/or wet insulation that collects at the tank base can rapidly worsen the corrosion.
Solution: Polymeric chime sealing improves reliability by preventing corrosion damage
Polymeric tank chime sealants offer significantly more longevity and durability when compared to conventional mastic sealants and bitumens. This has the benefit of reducing maintenance costs while improving reliability of the storage tank. Seal-A-Tank's main advantages are flexibility, breathability and a 10-year service life. Elastomeric flexibility accommodates tank expansion movements while its tenacious grip prevents disbondment and water infiltration. The microporosity of Seal-A-Tank makes it breathable, so any water trapped underneath is able to evaporate while external water is sealed out. These characteristics give you dependable corrosion protection for longer service life and improved reliability.
Application is done rapidly and can often be accomplished while the tank remains in service. Materials are safe and solvent-free. Typically, no hot work permit is required for installation.
Foundation Repairs
For situations that involve pooling water or damaged concrete foundations, Banks Industrial can also make repairs and corrections including tank chime fillets to divert water and condensation away from the chime.
CUI Repairs
We also offer CUI repair and a unique method to prevent moisture hidden under insulation from collecting at the tank wall bottom. This method involves 'raising' the lower portion of the insulation to expose the chime angle and allow trapped water to drain away from the tank surface. API 653 inspections are made easier because the tank chime is plainly visible.
Turnkey Service
BIG offers comprehensive, turnkey service for the repair and restoration of your storage tanks. Our innovative solutions and single-source approach reduce your hassles and eliminate or shorten downtime at your facility. Please contact us today for more information or to schedule your Seal-A-Tank service.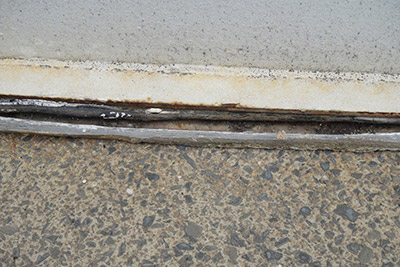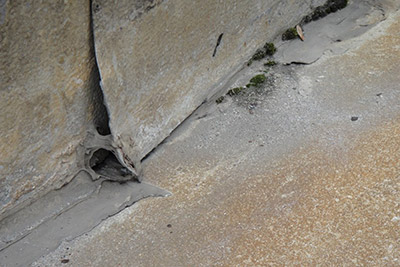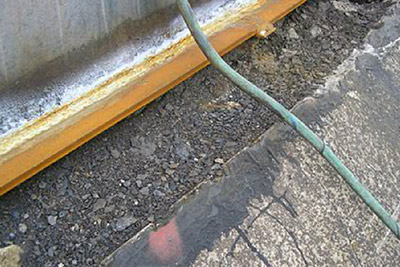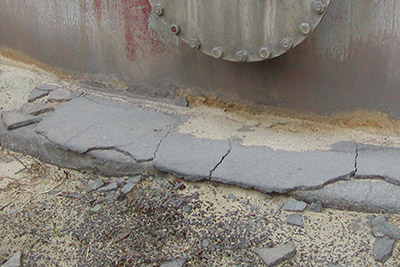 What Causes Tank Base Corrosion?
Water infiltraton through gaps in the tank chime collects underneath the tank floor where it causes corrosion. This can be exacerbated by water pooling at the tank base due to poor drainage as well as moisture trapped underneath insulation. Typical causes include:
Cracks from settlement of the storage tank
Failure of mastic type sealants
Cracking and shrinkage of hot bituminous materials
Void cavities between tank floor and concrete base that permit moisture to collect
Intermittent immersion in rainwater
Water saturated insulation creating severe CUI
Fire sprinkler / tank deluge systems creating water pooling and ponding around the base
Expansion and contraction movements of tank form gaps and break chime sealant