Exterior HVAC Duct Insulation Service
Improve energy efficiency and indoor air quality, withstand harsh weather
BIG offers exterior HVAC duct insulation service for new construction, retrofit and repair projects. Insulated HVAC ductwork increases efficiency, reduces energy cost and improves indoor air quality. We can provide factory authorized installation or training to your local contractor of premium Techna-Duc® and Dual-Tech® HVAC exterior duct insulation. These reliable systems present significant advantages over conventional sheet metal ductwork and wrapped insulation systems. Benefits include:
20-year limited warranty on Techna-Duc® & Dual-Tech®

Water-tight, triple-sealed joints–prevents growth of mold or mildew

Virtually eliminates indoor air quality problems

Twice the insulation value of traditional systems

Preserves the insulation and associated energy savings

Super lightweight and extremely durable

Quick, year-round installation

Zero maintenance required on both systems
Need HVAC Duct Insulation?
What is Dual-Tech and Techna-Duc and when do I need them?
Moisture intrusion causes most HVAC ducting to fail almost from the date of installation. That moisture soaks fiberglass and destroys its' insulative value, corrodes the underlying sheet metal, and penetrates the duct itself allowing mold and mildew to infect your indoor air quality.
Bad metal duct, bad insulation or new construction. Dual-Tech replaces both your traditional metal ducting and the insulation around it. If your metal ducting is corroded, porous, or otherwise beyond repair, you can replace it and the insulation in a one-trade application.
Good metal duct, bad insulation. Techna-Duc replaces traditional wrapped fiberglass insulation with polyisocyanurate foam board jacketed in .032 aluminum.

Save Money By Reducing HVAC Energy Costs
Moisture effectively destroys insulation. Wet insulation loses about 80% of its' insulation value. Dual-Tech and Techna-Duc repel moisture, keeping your system far more efficient.
Both Dual Tech and Techna-Duc will pay for themselves through reduced energy costs. These systems double the R-value of traditional wrapped insulation and significantly reduce air leakage (Dual Tech, for example, reduces air leakage to less than 1%–uninsulated duct will typically leak about 20%). Less air leakage and more insulation value means less heat transfer, thus reducing the amount of energy your HVAC system needs to run. As a result, your system will perform more efficiently with less need to compensate for heat loss or gain.
Create Insulated Ductwork That Lasts
Techna-Duc and Dual-Tech systems are jacketed in .032-inch aluminum and sealed against water intrusion and air leakage. Techna-Duc's crowned aluminum protection resists snow-loads, UV rays and puddling. Should any moisture manage to penetrate the system, the polyisocyanurate foam board absorbs less than 0.1% of water which touches it.
Neither Techa-Duc or Dual-Tech will require any maintenance, further reducing your total ownership costs.
Both systems come with a 20-year limited warranty. Owners might replace traditional systems (typically warrantied for only one year) up to three times in the lifetime of one installation of Dual-Tech or Techna-Duc. Since 2001, customers have made zero warranty claims on either product.
The following table lists features for each of our HVAC duct insulation systems.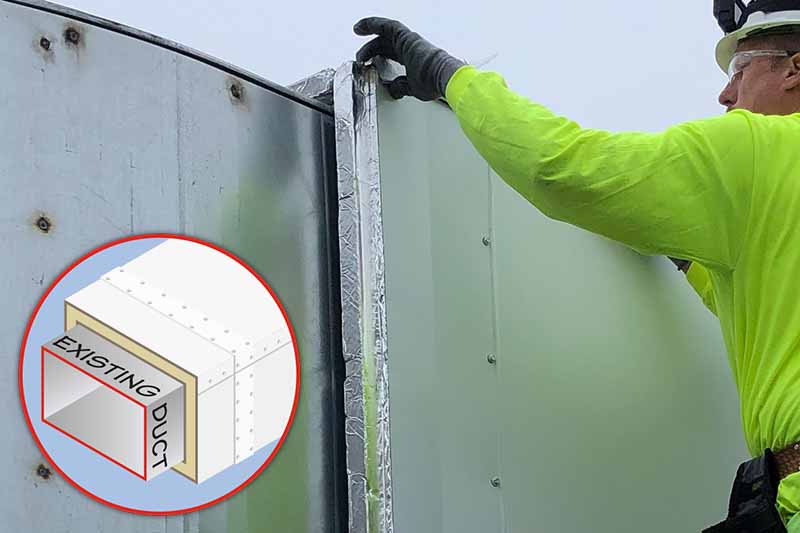 Techna-Duc® Exterior HVAC Duct Insulation
Lower your energy costs and improve indoor air quality by insulating outside HVAC ducts with our Techna-Duc® interlocking insulated panel system.
Techna-Duc insulation fits over exterior HVAC rectangular ductwork. It is suitable for new construction, retrofit and repair projects. It is an excellent choice to repair existing insulation that has deteriorated.
Patented design provides outstanding protection from humidity, UV rays and snow loads. Interlocking panels and triple seal joints prevent air leaks and intrusion of water and vapor. This improves efficiency and indoor air quality.
Shop fabricated panels make for easy installation with minimal field alteration. Design allows easy installation over TDC joint ductwork. Polyisocyanurate insulation material does not promote the growth of mold and mildew..
Ideal for retrofit of failed outdoor systems
Increase efficiency and lower energy costs
Durable and lightweight at less than 1 lb. per sq. ft
Improve IAQ - Interlocking joint system is triple sealed and watertight
.032 aluminum jacket with polyisocyanurate insulation
Regal White standard color – 35 optional colors available, embossed finish also optional
Thermal properties up to R-16 @ 2"/ K - 0.16 @ 75°F
Temperature range is -100°F to +250°F
Shop fabricated for less field install time
Year round, easy installation over TDC joint ductwork
Prevents mold and mildew growth
No maintenance required
20-year limited warranty
Can contribute points towards achieving LEED credit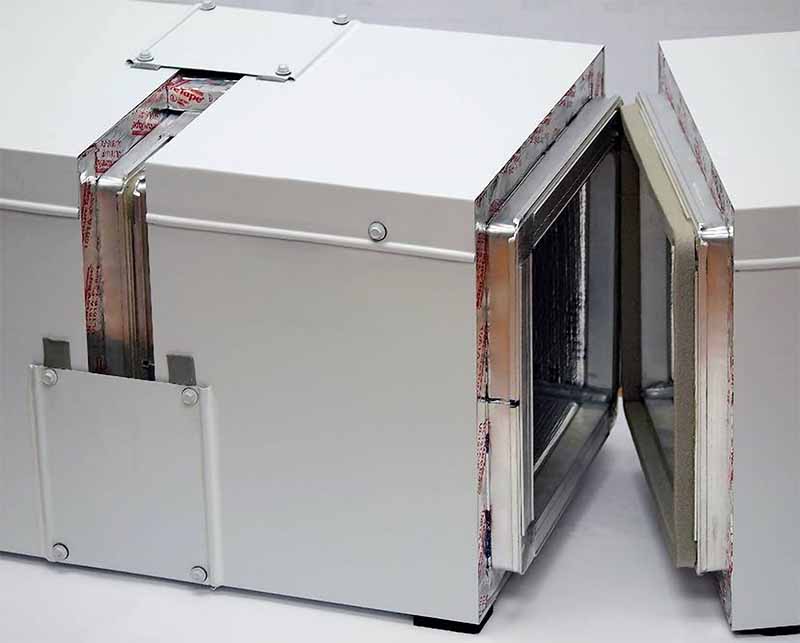 Dual-Tech® Double Layer Exterior HVAC Duct Insulation
Dual-Tech® is a pre-insulated duct system that combines the advantages of Kool-Duct® and Techna-Duc® into a double layer air distribution system. Dual-Tech is primarily an exterior system suitable for new construction and HVAC upgrades. It is also used in mechanical rooms, and gymnasiums where exposed duct requires jacketed protection.
Pre-fabricated Dual-Tech eliminates the need to install duct insulation as a second operation. This shortens installation time and improves construction timeline.
Dual-Tech reduces HVAC runtime by providing an airtight system with <1% air leakage with a standard R-16 insulation rating. This dramatically improves efficiency and lowers utility costs.
Robust materials and patented joint sealing give Dual-Tech a long service life that holds up to harsh weather conditions. This ensures that your ductwork will provide excellent IAQ, energy savings and return on investment throughout its service life.
Outlasts conventional fiberglass wrap sheet metal duct by many years
Superior insulating properties yield significant savings in reduced heating and cooling load
Fully assembled and factory sealed
Fast, single trade installation – 2X faster than sheet metal
Lower installed cost compared to sheet metal systems
Superior strength double-layer construction
R-16 thermal rating (greater values available)
White heat reflective finish standard (others available)
Low air leakage: Less than 1%
Delivers a maximum static pressure of positive 6 in. w.g. (1500Pa) and negative 6 in. w.g. (1500Pa) that will easily achieve SMACNA Air Leakage Class 3
Inner layer fabricated to UL-181 Listed Class 1 Ducting
Whole life cost savings up to 30% over 30 years
Eliminates fibers from the air stream
Reduces weight loads (1/3 the weight of sheet metal & insulation), less than 2 lbs. / sq. ft.
Reduction in CO2 emissions (1.79 lb./sq. ft. of bldg. floor area)
Can contribute points towards achieving LEED credit in many of the rating systems developed by USGBC
The Advantages of Working With BIG
We start by reviewing your site conditions. Then we calculate insulation thickness, heating / cooling loss and other environmental considerations. This lets us configure an optimal solution to best meet your specific requirements. Our design software will show you return on investment for energy savings, comparative heat loss efficiency, installed cost and maintenance cost. Next, our experienced crews provide professional installation with minimal disruption to your facility. The end result is a cost-effective and energy efficient system designed for long-term service.
How Can We Help You?
Please contact us today for more information or to schedule service.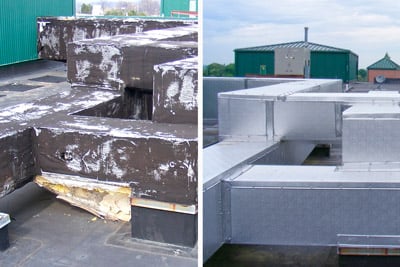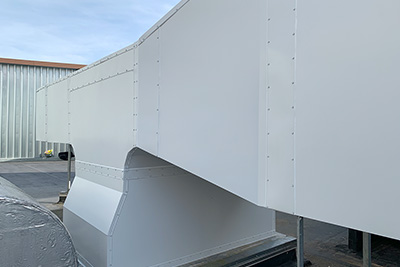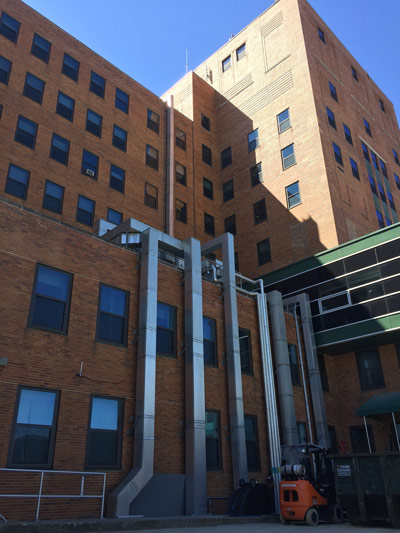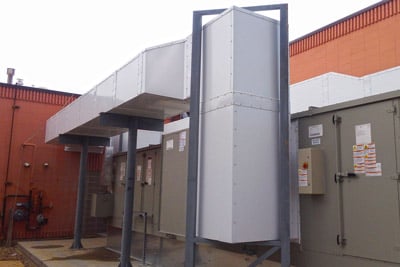 Frequently Asked Questions (FAQ)
Below you will find answers to the questions we get asked the most about Techna-Duc® and Dual-Tech® HVAC duct insulation.
How long will Techna-Duc® take to install?
No two jobs or ducts are alike, but we can generally breakdown of the factors which impact schedule.
Demolition executes relatively quickly. A competent crew can strip, remove and dispose of old failed insulation in less than a week for most duct systems. Access to dumpsters really matters for disposal. Bags hand carried down a building and to a remote dumpster can add significant time.
Measurement can be completed for most ducts in 1-2 days, mostly depending on the distance of the job site from the installer, access to the roof and weather conditions. Add another day on the backside for translation of field measurements into computer modeling software.
Fabrication depends highly on the size and length of the duct, the amount of straight duct and the number of bends. Elbows and transitions with multiple bends or angles add time. Many ducts can be fabricated in about five to ten business days.
Staging of the materials should add one to three days, depending on the amount of material to be staged and the relative accessibility of the roof. Materials can be lifted by rope, by scaffold, by a lull or by crane in order of slowest to fastest. Use of a lull offers the best compromise between speed and cost. Delivery times depend obviously on the proximity of the job site to the factory in the Philadelphia area.
We try to minimize the time from stripping to installation to help customers avoid a fully exposed and uninsulated duct in the elements.
Installation times depend on several factors, including:
Height of the duct off the roof
Size of the duct
Length of the duct
Number of access doors in the duct
Number of curves in the duct
The type and size of the supports for the duct itself
Accessibility of the roof
Let us assume that the customer needs a two-foot-high by three-foot-wide duct system. Expect the sections of Techna-duc® to come in sections four to eight feet long. A competent install crew can install two to four sections of insulation per day per technician assigned. A two-person crew could reasonably expect to install four to eight sections in a normal day, or essentially sixteen to thirty-two linear feet of duct per day in ideal conditions. Ducts that run vertically down the sides of buildings obviously take a lot longer and depend highly on access and lift availability.
Ducts high off the roof will be slightly slower. Extra access doors or excessively thick angle irons in the supports will also slow the install from extra field modification of the panels needed to accommodate these features.
How long will Dual-Tech® take to install?
The factors affecting the installation time of Dual-Tech® are like those affecting Techna-Duc®. That said, a competent install crew of two technicians should be able to install a four to eight-foot section of Dual-Tech® in 15-30 minutes per section. So, a two-person crew should be able to install roughly sixteen linear feet per hour. The size of the section (height and width) mildly affects install time, so larger ducts tend to take slightly more time than smaller ones.
What do we do with uninsulated ductwork while Techna-Duc® panels are being fabricated?
Customers should not necessarily worry about uninsulated ducts killing their energy bills. Most waterlogged wrapped insulation does not help them anyway. That said, we can apply a temporary wrap or plastic option to try and provide some limited weather protection for exposed duct.
How will you protect my rubber membrane roof during install?
We lay down temporary protective layers over the roof, usually thin pieces of plywood, to help prevent damage to rubber roof membranes during installation.
How do you remove old insulation from the roof safely?
Insulation can be disposed from a roof directly into dumpsters if available via chute, or bagged materials can be lifted or carried off the roof. Access to dumpsters and availability of lifts helps shorten schedules and drives down cost.
Will there be air leakage in a Techna-Duc® or Dual-Tech® system?
No duct is ever fully leak proof. Typical in-service sheet metal ducts leak somewhere between 10-20%. Engineers frequently specify new systems at 5% or less leakage. That said, both Techna-Duc® and Dual-Tech® should drive air leakage to less than 1% if installed correctly. That efficiency translates into significant energy savings for customers. A 2009 Berkley National Laboratory study identified HVAC air leakage as the number one fault causing energy inefficiency in commercial buildings, at a national cost of $2.9 billion per year.
Does the 20-year warranty cover labor and material or just material?
The product manufacturer will inspect all installations prior to issuing a warranty, and repair or replace parts and labor for twenty years with limitations for exceptional circumstances (acts of God, etc).