Pump Efficiency Coating Services
Banks Industrial Group's (BIG) pump efficiency coating services save you money with our industry-leading hydrophobic pump coating. You can boost pump efficiency by up to 10% over specifications, and increase the efficiency of older, worn pumps by up to 20%. Additionally, you will save money on energy costs over the life of your pumps. Our coatings protect your pumps from erosion, corrosion, cavitation, and chemical exposure. Your pumps will last longer and require less maintenance.
Need Containment Coating Work?
Benefits of BIG's Pump Efficiency Coating Services
Lower Costs
We reduce operating costs through improved pump efficiency.
Increased Performance
BIG's hydrophobic coatings boost performance efficiency up to 10% for new pumps, and up to 20% for pumps already in service.
Reduced Friction
Our hydrophobic coating minimizes frictional drag without changing equipment flow characteristics
Extended Service Life
We prolong the service life of your pump and save you money on pump replacement.
Reduced Maintenance
We lessen maintenance needs by protecting your pumps against erosion, corrosion, cavitation, and chemical attack.
Suitable for Potable Water
Our hydrophobic coating is suitable for use on valves and pipes, including those carrying potable water.
Improved Safety
We use safe, cold-curing coatings without solvents or VOCs.
Long-lasting Protection
Our coating services provide long-lasting, durable protection for pumps and components.
Lost Pump Efficiency Problem/Solution Example
Problem: How to restore lost pump efficiency
Pumps operate under constant friction caused by moving fluids and slurries. Over time, erosion, corrosion, cavitation, and abrasion hurt pump performance. These problems decrease efficiency and require more energy to overcome friction and turbulence, leading to higher operating costs, increased need for maintenance, and greater risk of equipment failure.
Keeping performance deterioration to a minimum is crucial. The good news is that there is a cost-effective way to overcome this problem.
Solution: Low-friction hydrophobic protective pump coating
Our hydrophobic protective coating repels liquids by creating a high-gloss barrier that repels liquids. A smooth pump surface reduces friction and turbulence, thereby requiring less pumping energy.
Additionally, the coating provides a protective barrier that isolates the metal surface of the pump from fluids. This prevents future deterioration and extends the pump's service life. Both new and existing pumps can benefit from a hydrophobic coating.
Energy costs are the most significant component of a pump's lifetime cost. Increasing efficiency reduces costs significantly. Our hydrophobic coating is inexpensive and easy to apply. Within a short period of time, the coating will pay for itself.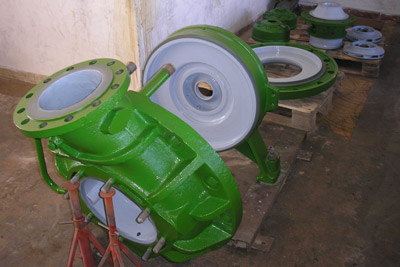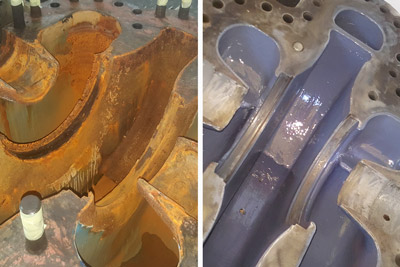 How Can We Help You?
BIG provides consultation and coating application services. Have us apply the coating or train and supervise your staff to do it.
We can also rebuild worn pump components, such as impellers, volutes, vanes, cutwaters, ring seats, and bushings. Our pump repair services provide you with a better, more cost-effective, and longer-lasting solution. Our team restores pump metal loss and applies specialized coatings to prevent future problems.
We are able to repair the concrete pad underneath a pump without service interruption. Eroded and crumbling concrete equipment pads hurt the reliability of your pump. We apply epoxy grouts to restore damaged concrete equipment pads and replace baseplate grouting without downtime.
Banks Industrial Group specializes in pump efficiency coating services, above-ground storage tank insulation, protective coatings, concrete, and related maintenance and repair services. Our innovative and cost-saving solutions help keep your facility running efficiently. For more information about our concrete floor repair and other industrial solutions, contact our team today by calling 856-687-2227.