ErectaStep Industrial Stairs, Ladders & Platform Components
Improve Industrial Safety and Fall Protection - 5 Main Components - Unlimited Configurations

1. Industrial Work Platforms
Part # 11394 – Weight 46 lbs.
The universal 3′ x 3′ access platforms are infinitely expandable through common bolt hole patterns, which allow stairs, handrails and other platforms to be attached to any side. Platforms are stamped from a single piece of aluminum and feature slip resistant surfaces. *Patent Pending.
2. Industrial Handrails
Part # 11395 – Weight 21 lbs.
ErectaStep handrails are a single standard size and bolt to any platform side through a matching bolt hole pattern. Each handrail is constructed out of round pipe with an OD of just slightly less than 2″. Standard powder coat color is OSHA safety yellow to meet regulations. *Patent Pending.
3. Aluminum Industrial Stairs
Part # & Weight Listed Below
The ErectaStep metal step unit offers a 26″ wide walk surface with slip resistant treads in 9″ vertical increments (only). The ANSI Safety yellow powder coat meets standards out of the box. Units ship broken down for lower shipping costs and are easy to assemble. Stairs can be combined to reach the required height. *Patent Pending.
4. Tower Platform Supports
Part # & Weight Listed Below
The tower support's bolt hole configuration match the bolt holes on the ErectaStep platform. This allows a tower attachment to span the seam of two platforms or to be located on as many as 4 sides of a single platform system regardless of stair location. *Patent Pending.
5. Platform Ladders
Part # & Weight Listed Below
The Platform Ladder component provides both tower support and additional access to areas unsuitable for stairs. Industrial ladders are constructed entirely of aluminum and bolt to bottom of platform, without supplemental parts. Six different heights can be stacked to reach the required height. *Patent Pending.
One Platform–Endless Expansion
ErectaStep's modular design accommodates requirements from a single 3′ x 3′ access platform to unlimited platform areas. Shown above are a 3′x 12′ walkway configuration and a 9′ x 9′ platform. Each of these designs can easily be expanded with the aid of tower supports. Platforms do not need intermediate support until you exceed three.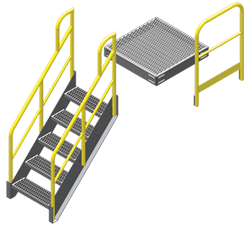 Effortless Assembly
Our patent pending platform design allows industrial handrails and crossover stairs to attach to common bolt holes on any side, allowing any configuration without drilling or fabrication. Configurations can be altered and components can be re-purposed at any time.
---
Industrial Stairs and Supports are Available in Six Heights
26″ walk surface • 9″ vertical increments • Combine for added height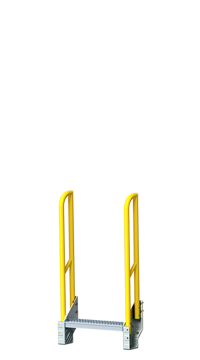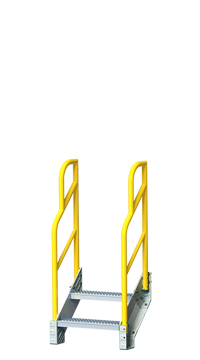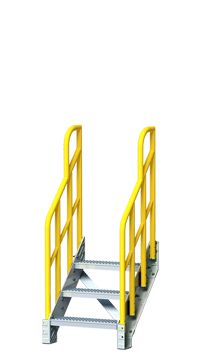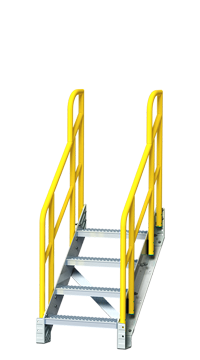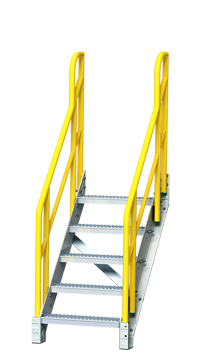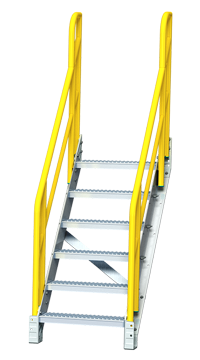 ---
Platform Tower Supports
Bolts to any side of platform, regardless of stair location • Stackable • Can span two platforms if required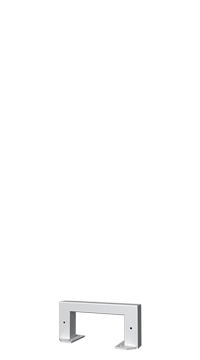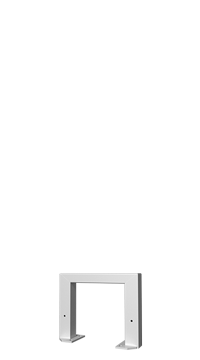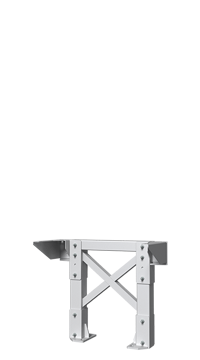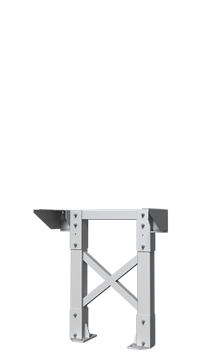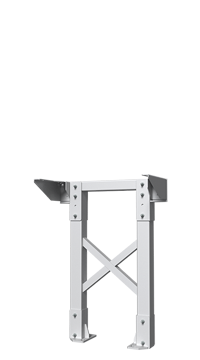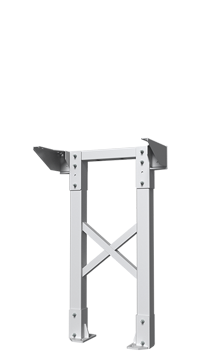 ---
Industrial Ladders
Bolts to bottom of platform, without supplemental parts • Stackable to reach higher heights